歌舞伎が誕生した江戸時代、遡ること約400年前、「江戸の女装と男装」と題した展覧会が太田記念美術館にて開催される。
女装や男装の文化は、洋の東西を問わず、古くから見られるものだった。日本では、女装といえば「古事記」に見えるヤマトタケルが女装して熊襲を退治した話が思い出される。また、中世の稚児による女装、芸能に見られる女装など、古くから異性装の風俗があったことでも知られている。祭礼で芸者などの女性が男装して出し物を演じたり、男性役者が女装して女性を専門に演じる歌舞伎の女形。浮世絵では歴史や物語に登場する人物の男女を入れ替えて、当生風の人物に置き換えるやつし絵や見立絵も多く描かれている。江戸時代には、異性装や男女を入れ替えるという発想が、庶民にとって身近なものであったことがうかがえる。
An upcoming exhibition at the Ota Memorial Museum of Art celebrates the history of Corss-dressing in Japanese culture through the medium of Ukiyo-e wood block prints.
The culture of cross-dressing in Japan dates way back to the story of Yamato Takeru dressing as a woman to conquer his enemy as told in the Kojiki ('The Records of Ancient Matters' published over 1,200 years ago). In the Edo period, Geisha wore men's clothing to perform on the streets of the Yoshiwara district as part of the'Lion Dance' festival and male Kabuki actors specialised in playing female roles – a practice that continues today.(continued below)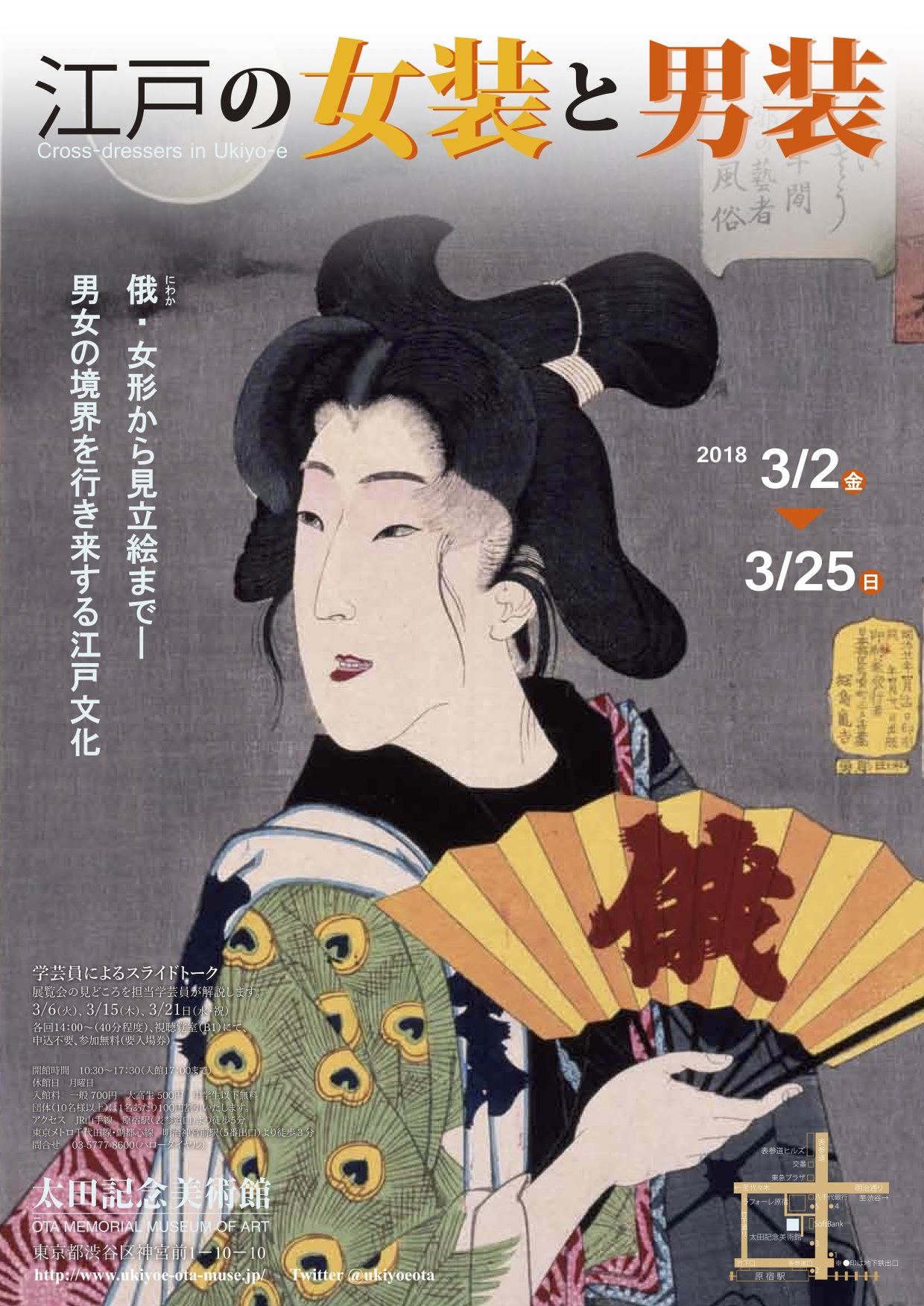 本展では、描かれた浮世絵を通して、男女の境界を自由に行き来する江戸時代の風俗と文化に迫る貴重な企画展。男装した芸者たちによる獅子舞、物語に登場する異性装の人物たち、女性の名優が数多く登場した出雲の阿国の一座、庶民たちが楽しんだ洒落た男女入換えの傾向などと、江戸時代の庶民文化から男装・女装、そして、浮世絵の作品にフォーカスした内容となっている。
In ukiyo-e pictures, artists often switched the genders of historical and fictional characters, and drew them as fashionable persons in "parody pictures."
The idea of switching male and female was highlighted with the huge success of recent anime movie "Your Name". Rather than being a new concept, this exhibition shows that switching gender roles has been a common part of Japanese culture since the Edo period.
The Ota Memorial Museum is a small space in the heart of Harajuku offering revolving theme based exhibitions of the world renowned collection of wood block prints collected by the late Seizō Ota V. It's one of the best places in Tokyo to see wood-block prints.
江戸の女装と男装
会期:2018年3月2日〜3月25日
会場:太田記念美術館
住所:東京都渋谷区神宮前1-10-10
時間:10:30 – 17:30
休館日:月曜日
入場:一般700円 | 大高生500円 | 中学生以下無料
Cross-dressers in Ukiyo-e
2018, March 2nd – 25th
Ota Memorial Museum of Art
1-10-10 Jingu-mae Shibuyaku Tokyo, 150-0001 Japan