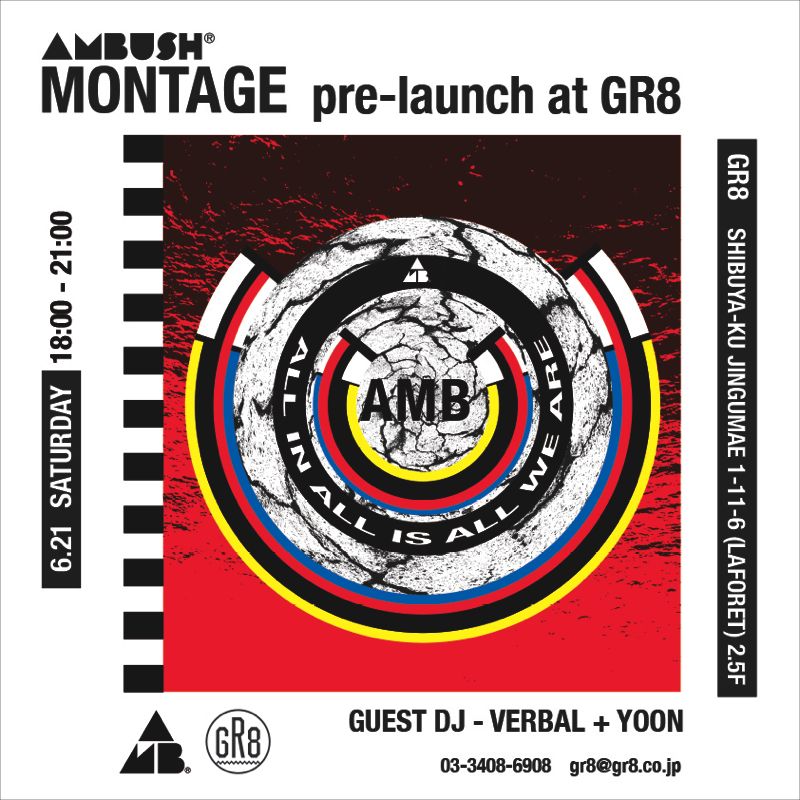 VERBAL&YOONが手掛けるジュエリーブランド「AMBUSH®」の新作「MONTAGE」コレクションのプレローンチが、6月21日、GR8(ラフォーレ原宿)にて開催される。当日は、普段店頭に並ばない貴重な商品ほか、展示会の雰囲気をそのままGR8店内に再現。また、今回のために用意された限定商品も要チェック。全世界に先駆けて先行発売。店舗は11時よりオープンし、18時よりフリードリンクでお招き。時間は未定だが、会場にはVERBAL&YOONも登場!詳しくはコチラ!
なお、当日は招待制なので下記メールアドレスに必要事項を明記の上、ご返信をお願い致します。メール確認次第、担当者から追ってご返信させて頂きます。
*当日、混雑状況に応じて入場制限をさせて頂く場合が御座いますので予め御了承下さいます様お願い致します。
★AMBUSH® MONTAGE PRE-LAUNCH GR8 HARAJUKU★
日程:2014年6月21日(土)
会場:GR8(ラフォーレ原宿)
住所:東京都渋谷区神宮前1-11-6ラフォーレ2.5F
電話:03-3408-6908
メール:gr8@gr8.co.jp
そして同日夜、23時より渋谷トランプルームでトウキョウダンディ6周年記念パーティーを開催します!詳しくはコチラ!!!
'「Primal. Tribal. Innocence. Kurt」AMBUSH® "MONTAGE" Collection。
無邪気に表現されたトライバルなモチーフやシンボル。
飾り気のない、心を引きつけられるシンプリシティー。「All in all is all we are」。'
On Saturday June 21st La Foret Slelect Store GR8 will host a preview exhibition of AMBUSH®'s new collection 'MONTAGE'.
The full collection will be available for fans and customers to view and pre-order whilst AMBUSH®'s VERBAL & YOON take turns to DJ. A limited Edition item will be available to purchase as well as drinks to get the Saturday night rolling (TOKYO DANDY PARTY IS LATER THAT NIGHT).
The MONTAGE Collection will be available to view and pre-order from 11am, the event on the night from 18.00-21.00 is invite only, please RSVP to gr8@gr8.co.jp.
'Primal. Tribal. Innocence. Kurt
AMBUSH® "MONTAGE" Collection is a playful take on beautiful tribal motifs and symbols with naïve artlessness. Endearing simplicity without contrived artificiality. All in all is all we are.