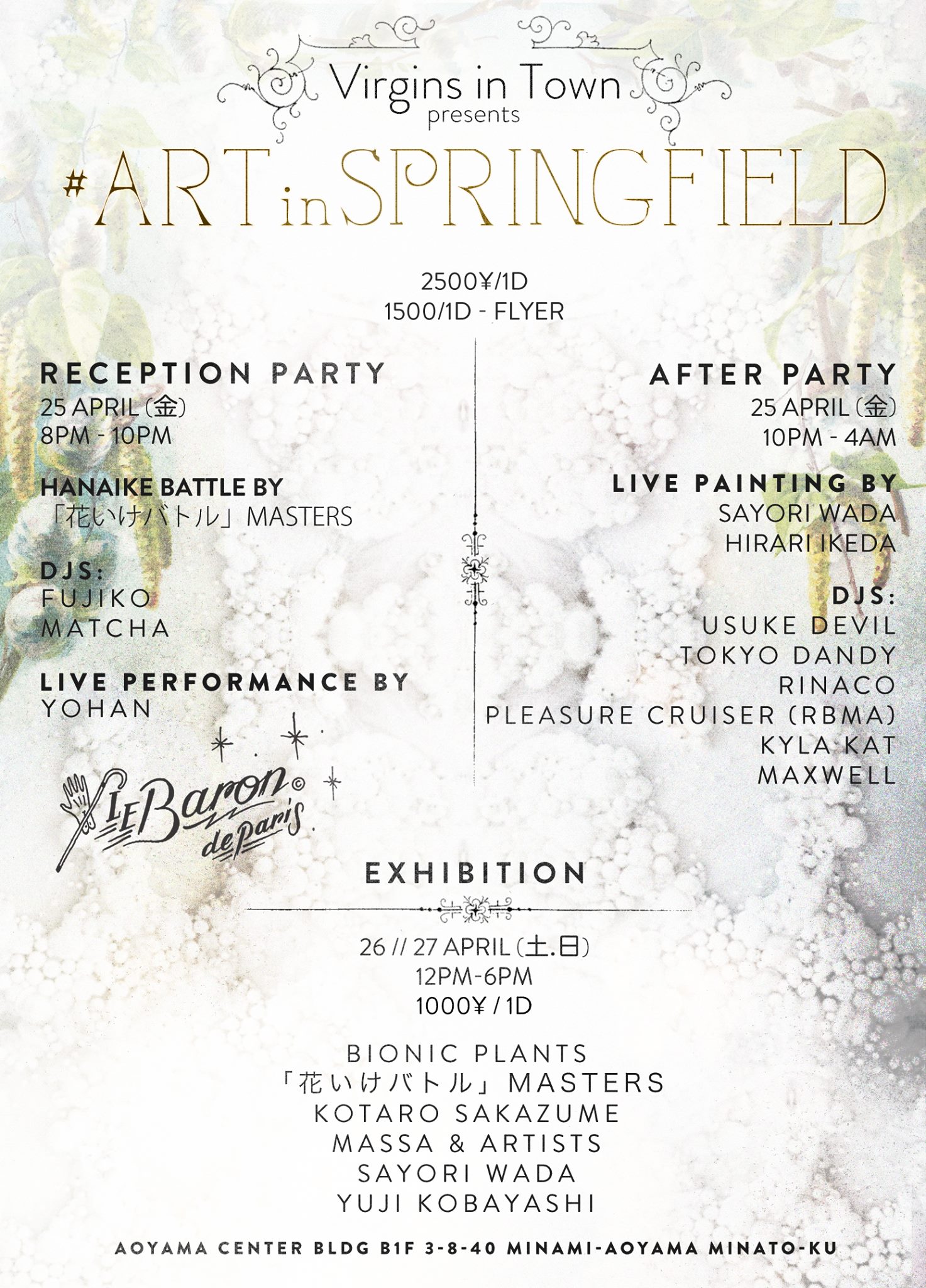 今回の「バージンズインタウン」のテーマはSPRINGFIELD。
春に向けて、ルバロンをTim Walkerインスパイアーの2日間限定ARTギャラリーに変えます。
#ARTinSPRINGFIELDでは、日本で一番活躍しているフラワーアーティストとニューアーティストのインスタレーション、アートピース、写真などを展示いたします。
この美しいコラボレーションのために、開催日前では、レセプションパーティーとアフターパーティーが同じく、ルバロンで行います。
SPRINGFIELD is the theme for our next Virgins in Town.
And to welcome Spring, We will turn Le Baron into a Tim Walker inspired 2 days only ART Gallery.
#ARTinSPRINGFIELD exhibition will feature pictures, art pieces and installations of the most renown Flower Artists as well as new Artists.
For this beautiful collaboration, We will have a Reception Party followed by an After Party, All at Le Baron de Paris.
RECEPTION PARTY:
25th, April (金) / 8pm – 10pm
Hanaike Battle (www.hanaikebattle.com):
上野 雄次
曽我 部翔
日向 雄一郎
平間 磨理夫
宮永 英之
DJs:
Matcha
Fujiko
Entrance:
Y2500/1D
Y1500/1D (Facebook)
Dress Code:
Flowery
_________________________________________________________
AFTER PARTY:
25th, April (金) / 10pm – 4am
Live Performance:
YOHAN
Live Painting:
Sayori Wada & Hirari Ikeda
DJs:
Usuke Devil
Tokyo Dandy
Rinaco Ines Aoki
Pleasure Cruiser (RBMA) Love Hotel
Kyla Kat
Maxwell Olson
Entrance:
Y2500/1D
Y1500/1D (Facebook)
Dress Code:
Flowery
_________________________________________________________
EXHIBITION:
26, 27th, April (土.日) / 12pm – 6pm
Artists:
花いけバトル Masters http://www.hanaikebattle.com/
Kotaro Sakadume http://kotarosakazume.tumblr.com/
Massa & Artists http://www.massa-artists.com/
Sayori Wada http://www.sayoriwada.com/
Seigo Kusunoki http://bionicplants.theshop.jp/
Yuji Kobayashi http://www.geometric-green.com/
Entrance:
Y1000/1D