前号W Magazineのページで紹介されていた「Art & Seoul」の記事。(オンライン上でもチェックすることができる。HERE.)これまで一度もソウルに足を踏み入れたことがないTOKYODANDY TEAM。アートだけでなく、町並み、ファッションと全てが興味深い。2011年が待ち遠しい。
そして、何がしたいのか。何を求めているのか。さっぱり分からない北朝鮮砲撃問題。と同時に、HAPPYなニュースもこちらに、幼少の頃から半生をロサンゼルスで過ごしていたKosuke AdamによるK-POPミックス。題して、「All Girls K-POP MIX by kosukeadam」。ダウンロード回数100回限定とのことなので、お早めに。KOSUKE ADAM BLOG HERE.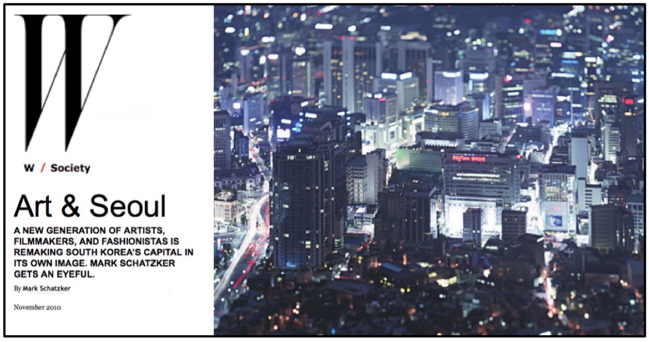 'Art & Seoul' was an interesting article I read in last months W Magazine, it's now available to read on-line here. Tokyo does not have a contemporary art scene anything like the one described in this article. I understand that a lot of hyperbole is used when writing such things but it still makes Seoul seem like a really interesting place to visit and Tokyo Dandy will try to get there in 2011!
There's a lot of tension on the Korean peninsula right now. The perfect time for a dose of K-pop fun in the shape of our friend Kosuke Adam's All-Girl K-pop mix you can listen to and download below. K-pop is hugely popular here and there's a lot of love for Korea. Fuck politics, let's party together.
All Girls K-POP MIX by kosukeadam