先週末のソウル弾丸ツアー。渋谷に店を構えるセレクトショップ「CANDY」のポップアップショップが、5月24日よりソウル・カンナム(江南)エリアにある「KOON WITH A VIEW」にて開催されている。TOKYODANDYは、24日のオープニングパーティーでDJとして韓国初上陸を果たしたほか、ペインティングアーティスト、CHOCO MOO & OKEHを迎えてライブペインティングが行われた。ハウスオブホーランドやサンローラン、ケンゾー、ジェレミー・スコット、カルヴェンほか、韓国ローカルブランドを多く取り揃えているなかで、「CANDY」は東京ブランドを中心に(AMBUSH, 99%IS, DTTK, Christian Dada, DISSBORN, PHENOMENON, BALMUBNG)1階フロアを演出。会場には、ファッション関係者はもちろん、モデルにアーティストと沢山の方が駆け付け、韓国のHIP HOP集団、360soundsによるサウンドで大盛況を得た様子。夜10時を回った頃には人も少なくなりアフターパーティー会場へと移動していたのだ。バスに乗り込み向かった先は、音好きが集まるイテウォン(梨泰院)のCAKE SHOPという名のクラブだった。ここではCANDY所属KANAMIがローカルピープルをコントロール。
ポップアップショップは6月2日まで行われているので是非足を運んでみるべし!
BIG THANKS TO CANDY CREW!!!
▶KOON WITH A VIEW x CANDY x 360 SOUNDS◀ SECOND MOVEMENT
日程:2013年5月24日 〜 6月2日
場所:KOON WITH A VIEW SINSA STORE
住所:546-5 SINSA-DONG GANGNAM-GU, SEOUL KOREA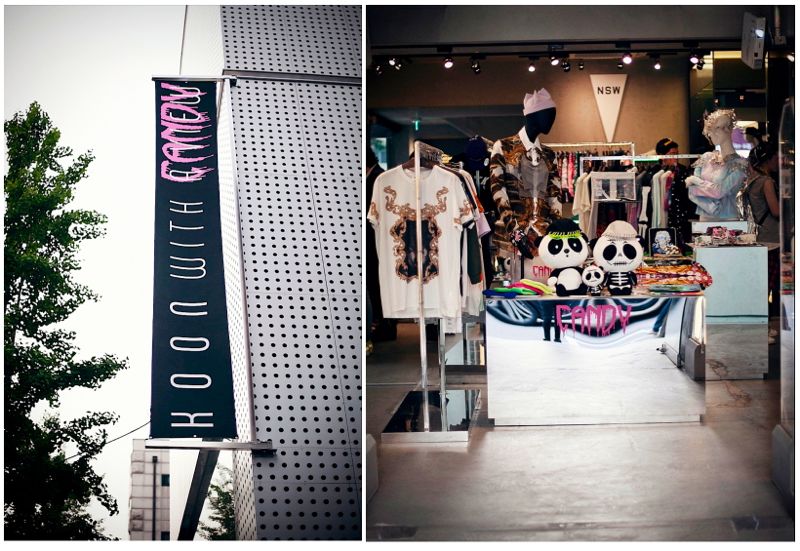 Last weekend TOKYO DANDY made our frist trip to SEOUL. The occasion was the opening party for CANDY Nippon's POP-UP store at 'Koon With A View' in Gangnam. The four floor select store that opened at the end of 2012 features an amazing range of brands including House of Holland, Saint Laurent, Kenzo, Jeremy Scott, Carven alongside local Korean collections. CANDY was an obvious choice for a pop-up in Seoul. As Tokyo's most influential select store CANDY is favorite amongst K-POP stars and their stylists who continue to look to Tokyo for inspiration. AMBUSH, 99%IS, DTTK, Christian Dada, DISSBORN, PHENOMENON, BALMUBNG and KTZ were amongst the brands taken over by CANDY for their store which is open in KOON until June 3rd. Artist Chocomoo also joined the party which was hosted by the 360 Sounds Collective. She collaborated with Korean Graphic Artist and Buried Alive Creative Director Okeh on a live illustration pictured below. We enjoyed DJying in the warehouse like space to the rear of the store. The VJ in army helmet and military garb who entertained the guests which included K-pop idols, models and skate boys. When the store party was done we all piled on a party bus and headed to the after-party as CAKE SHOP in Itaewon. 360 Sounds again provided the entertainment and the place was packed both inside and out by the time Candy's Kanami Fukushima took to the decks. We had a great time in SEOUL, thanks to the CANDY crew and everyone at KOON With A View. We hope to be back soon.