某ゲストハウスで開催された「Cartier(カルティエ)」男性用腕時計のプライベートパーティー。会場に着くと、まず目に入ったのが、デンマーク生まれのアイスランド人アーティスト、オラファー・エリアソンによるプラチナウォールの豪華な壁。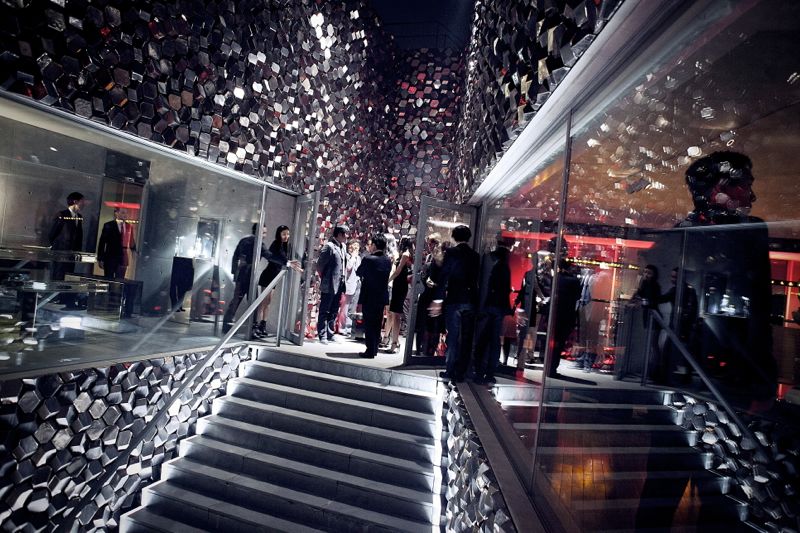 9日間に渡って開催された今回のプロジェクトは、カルティエはもちろん、GQ JAPANやCasa BRUTUSをホストに、各界の著名人を招いて開かれたカルティエの「Shape Your Time – 果てなき挑戦者へ」。コンテンポラリーアートが溢れたゲストハウスでは、カルティエの新作から過去、現在、未来の3つの時空に分けて展示。
訪れた著名人のなかには、布袋寅泰(ミュージシャン)、柴咲コウ(女優)、菜々緒(モデル・女優)、伊勢谷祐介(俳優・実業家)、NIGO、道端ジェシカ(モデル)、三原康裕(ファッション・デザイナー)、吉岡徳仁(アーティスト)、ジャラ・マリアーノ(モデル)
下記映像は、2012年に世界中で1億6,000万人以上が視聴したショートムービー「オディセドゥ カルティエ」を手掛けたフランス人監督ブルーノ・アヴェイラン。果てなき挑戦を続ける世の男性たちに捧げるメッセージが込められた90秒の映像。1904年に誕生した(パイオニア飛行士であるアルベルト・サントスのためにルイ・カルティエが腕時計を発明してから今年で110年)初の男性腕時計「サントス」ウォッチ。1912年に針が宙に浮いているように見えるミステリークロックの初代モデル。また、建築家ラファエル・デ・カルデナスによる立体的なインテリアは、カルティエの象徴でもある文字盤のローマ数字、全12個を文字盤に見立てて制作。
隣の部屋では、ジュネーブから遥々届けられたカルティエのアーカイブ作品が展示されていて、どれもストーリーがあり美しい。1930年代の時計2つとメンズ用のカスタムメイドされた貴重なシガレットケースや時計、携帯用カミソリが内蔵されたライターなどと創意工夫が詰まった歴史を示す。
ショートムービーでも紹介された今回のエキシビションの未来が「Astrotourbillon」となる。とても複雑な構造で時計産業の間でも理解に苦しむくらいの技術を表現。カーボン結晶で作られているこの時計は、潤滑油の必要がなくなりメンテナンスがほぼ完全に要らないくらいだとか。
カルティエのパイオニア精神に触発され、ミクソロジストによる珍しいカクテル表現と、とても貴重な体験をさせて頂きました。
是非カルティエのメンズの世界を体験してみるべし!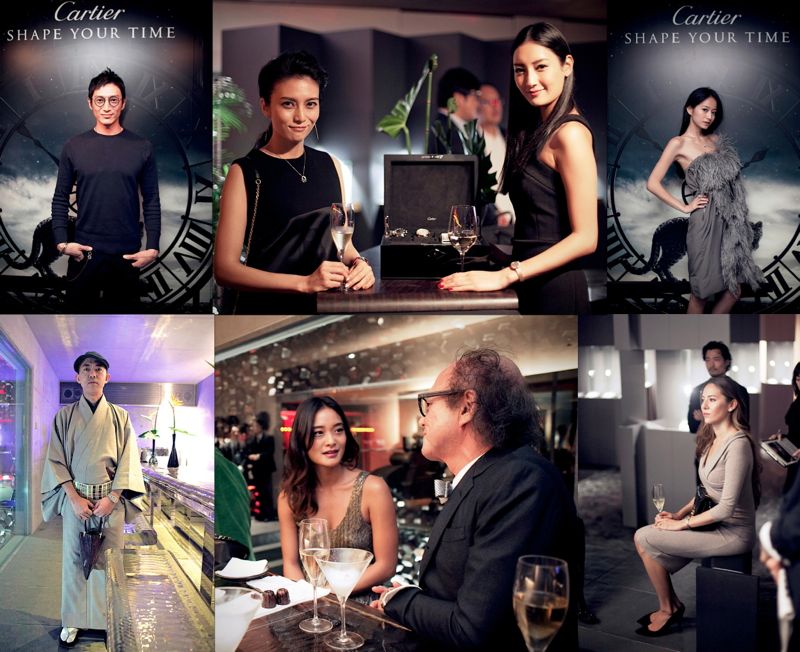 Iseya Yusuke, Shibasaki Ko & Nanao, Iruka, NIGO, Jarah Mariano in conversation with GQ Editor Suzuki-san, Jessica Michibata watching the below 'Shape Your Time' film
Cartier's SHAPE YOUR TIME', introduced highly influential individuals from the world's of Art, Architecture and beyond to Cartier's men's watches this past week in Tokyo. From cocktail parties hosted by esteemed publications Casa Brutus and GQ Japan to sit down lunches and dinners, the 8-day event welcomed guests including Hotei, Shibasaki Ko, Actor Iseya Yusuke, NIGO, Jessica Michibata, Mihara Yasuhiro, Nanao, Tokujin Yoshioka and Jarah Mariano to name but a few. The Global project came on the 110th Anniversary of Louis Cartier's invention of the wrist watch – no better time to celebrate.
A private Gallery provided the perfect backdrop for pieces from the Past, Present and Future of the illustrious House of Cartier. Guests were introduced to the concept of time as crafted for over a hundred years through the 'Shape Your Time' film Directed by Bruno Aveillan. From there, a meandering walk through columns in the shapes of Cartier's signature Roman Numerals displayed the Maison's current models. The columns were created by Rafael De Cardenas, the Spatial Designer commissioned to design a bespoke interior.
The next room featured an eclectic mix of items from the Cartier Archive in Geneva. Cigarette Cases, Watches, Bridge sets and Razors illustrating a history of bespoke design and ingenuity. The show piece being the 1923 'Mystery Clock' which had a starring role in the 'Shape Your Time' Film.
The Future of watch making was represented in the Carbon Crystal Astrotourbillon, the remarkably intricate technology appreciated by the Japanese Watch industries leading editors and collectors who marveled in it's presence.
Inspired by Cartier's pioneering spirit and fueled by Cocktails from Tokyo's leading mixologists, time passed with engaging topical conversations on art, craftsmanship and travel. Despite it's rich watch making heritage, Cartier may arguably be more well known as a Jeweler, 'Shape Your Time' being the perfect introduction into the more masculine side of the storied house. A great time had by all.
Explore more on Cartier's Official Website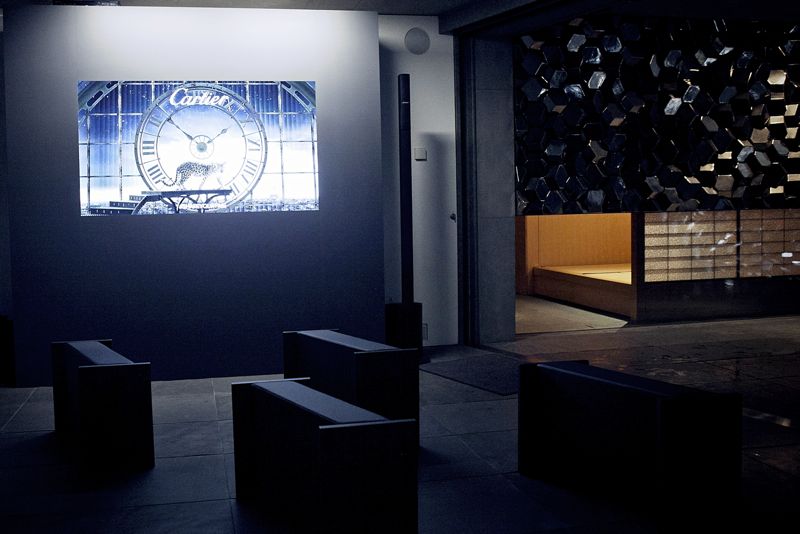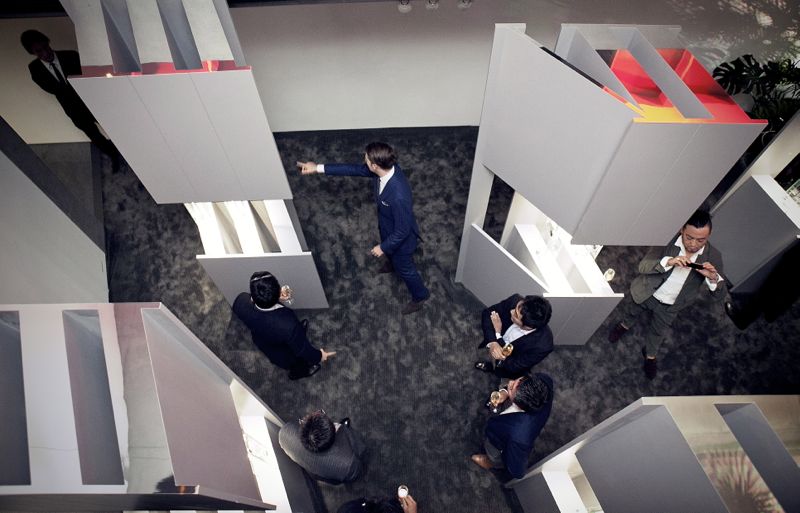 Guests view current Cartier models between 3D pillars shaped in the House's signature Roman numerals by Rafael De Cardenas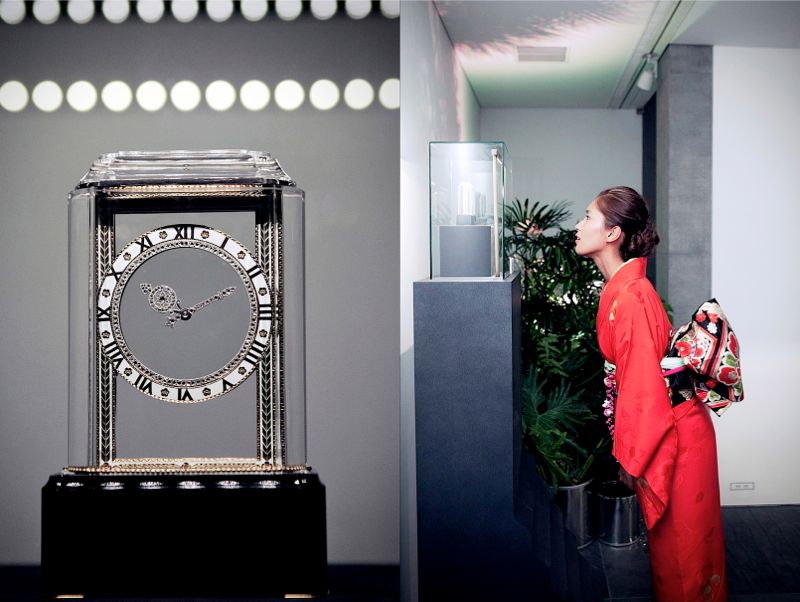 'The Mystery Clock' (1923) A piece form Cartier's Geneva Archive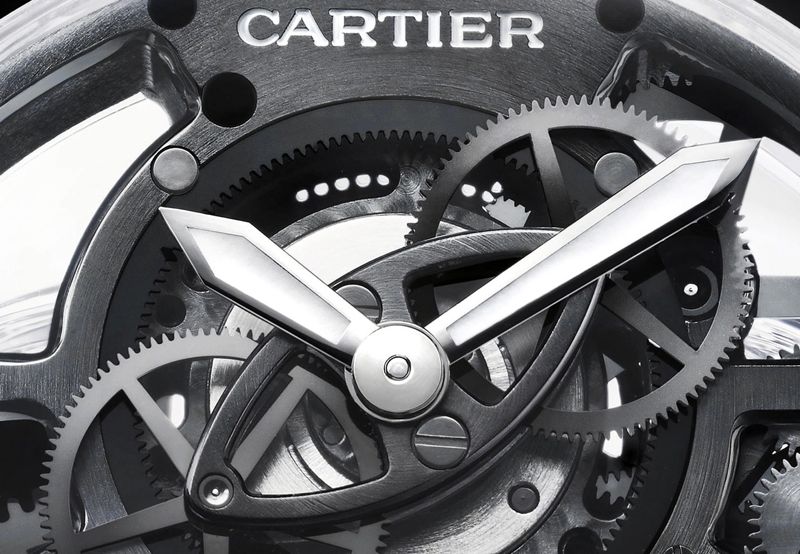 A detailed close up of Cartier's 'watch of the future' the Carbon Crystal Astrotourbillon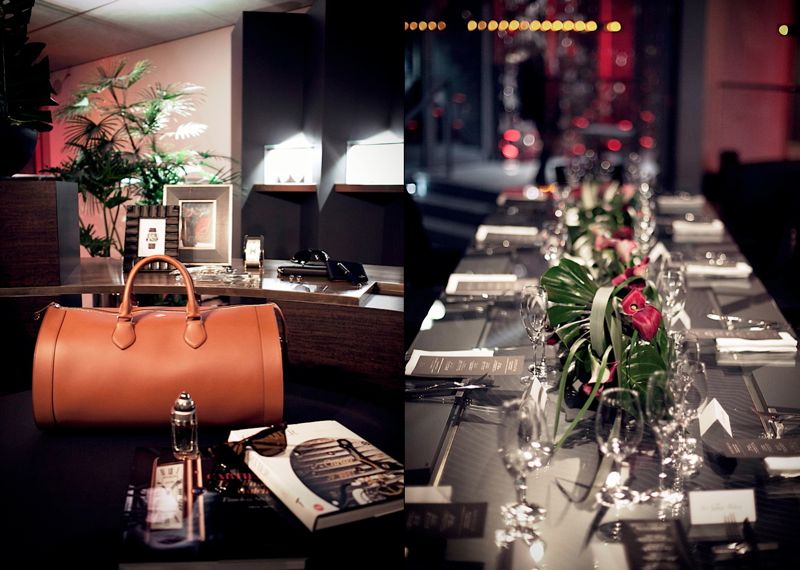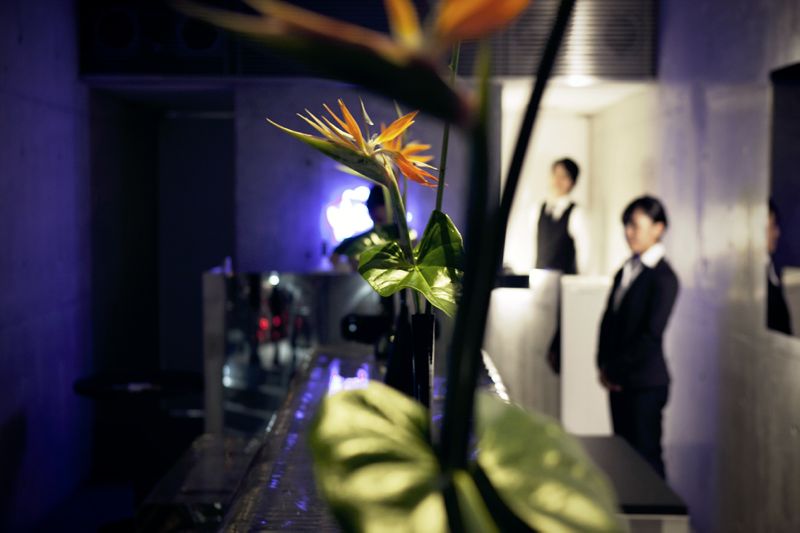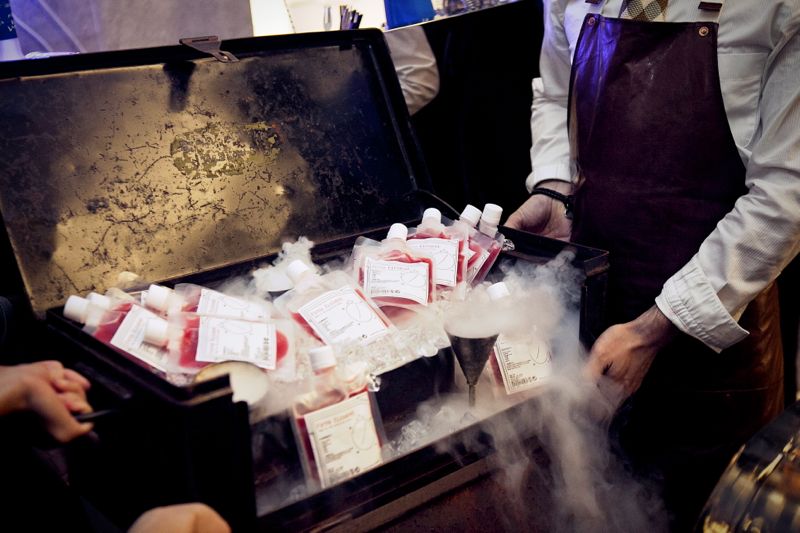 Guests enjoyed themed cocktails made by Tokyo Mixology