昨夜(10月20日)ベルサール渋谷ファーストにて開催された森川マサノリ(Masanori Morikawa)によるクリスチャン・ダダ(Christian Dada)の2012年春夏コレクション。ダダと言えば … 4月に初のランウェイショーを発表し今回で2度目のお披露目。勢いのあるブランドと言えばクリスチャン・ダダの名前が飛び交うはず。それはさておき、ダムタイプの「S/N」より引用し … 「SIGNAL / NOISE」と名付けた今期のテーマ。ゴスクチュールとでも言わせて頂こう。黒のドレスの上から真っ白の動物の「骨」がこっちを向いて叫んでいる。かのような … 今にも … 音と共に動き出しそうな演出。終盤 … 白骨以外に黒骨(枝のような)や、ボックスの中央から顔を出したピースや、オーガンジーのドレスを使用したドレスが登場。ラストは … 森林に突如現れた1人の妖精。のような雰囲気。アイボリーの美しいドレスを身にまとい、首周りには白骨が … いや "死のアイコン (骨)" な演出。まさに「死と生」を彼なりのクリエーションで見せ付けただろう。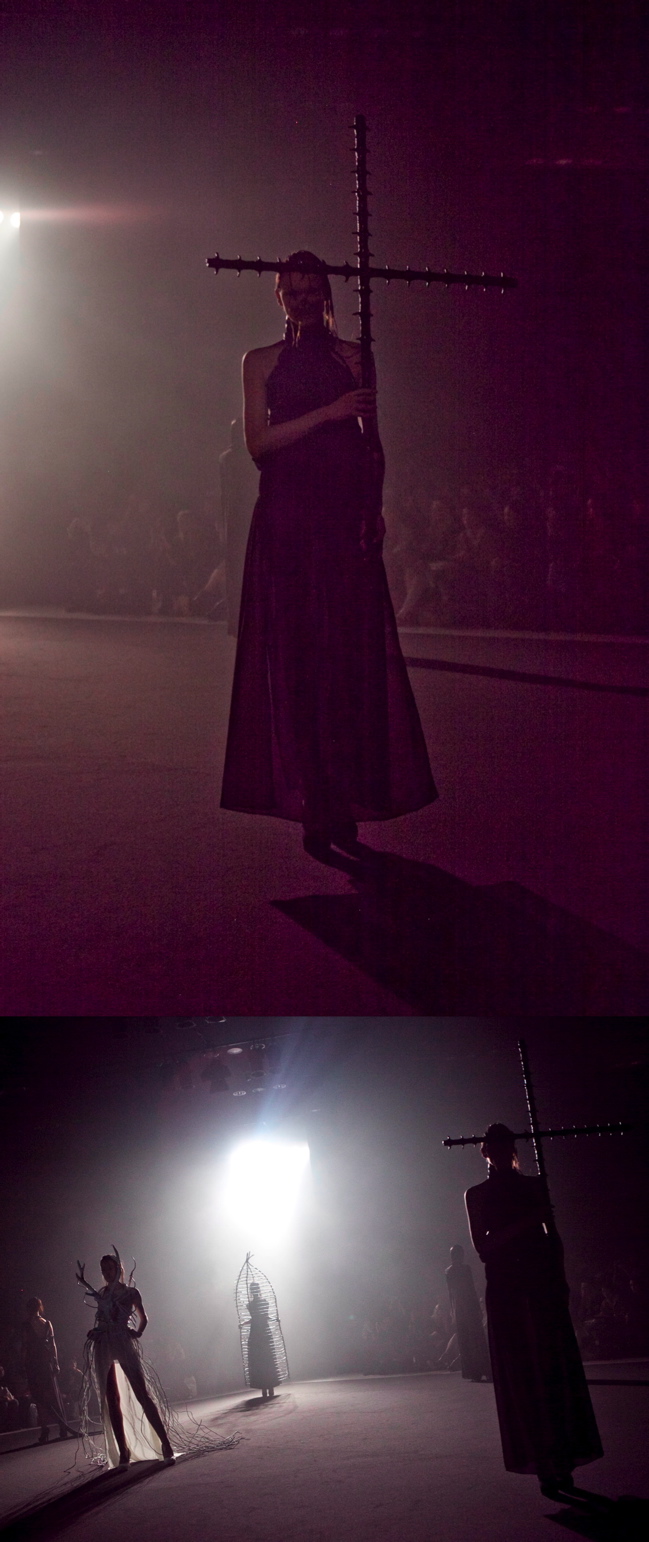 Photos by Dan Bailey
Last night Christian Dada brought his goth-couture vision to Mercedes Benz Fashion week in Tokyo for his 'SIGNAL/NOIZE' show. From the very first look, the show managed to hit the perfect balance between Avant-Garde styling to make the show interesting, whilst presenting 'wearable' pieces. A show-stopping coffin like box, complete with garland like peep-hole, lifted the dark feel of the show and put some much needed fun into Tokyo Fashion week. Another model stepped out in a cage whilst the final piece looked like a forest fairy wedding dress. We half expected Diane Pernet to leave her seat on the front row and join the models in the show finale.
In just two runway shows Christian Dada has become the 'one to watch' during Tokyo Fashion Week.
CHRISTIAN DADA 2012 S/S COLLECTION from TOKYO FASHION FILM on Vimeo.