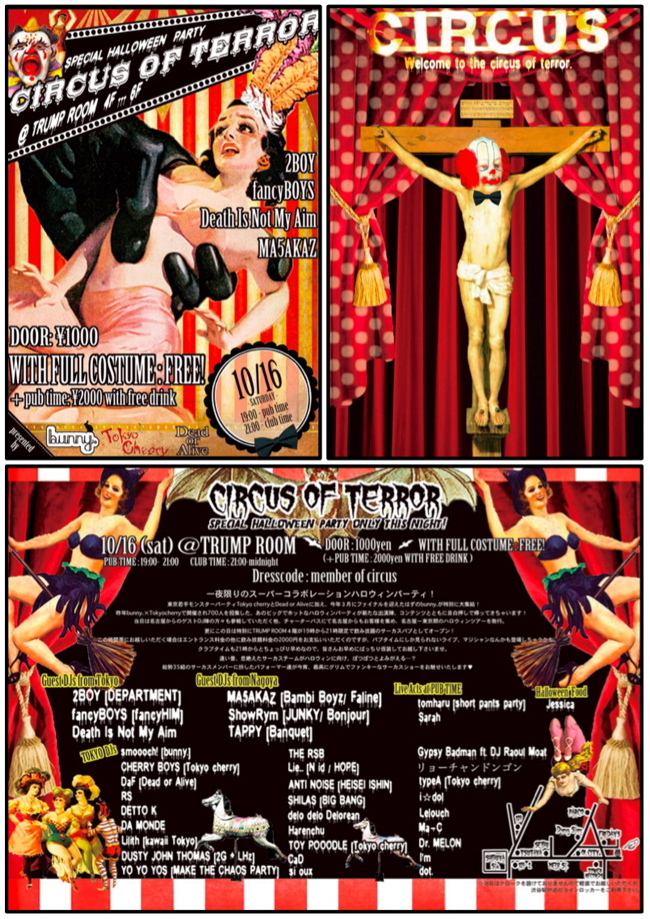 The first of many Halloween parties this month!
開催日:2010年10月16日(土)
Guest DJs:
▼ from Tokyo
・BLACK SEBBATH [NERDZ ERA/raid system] ・2BOY[DEPARTMENT](http://2boy.droptokyo.com/blogs/)
・fancyBOYS [fancyHIM] ・Death Is Not My Aim
▼ from Nagoya
・MA5AKAZ [Bambi Boyz/Faline](http://ma5akaz.blog6.fc2.com/)
・ShowRym [JUNKY/Bonjour] ・TAPPY [Banquet]
Tokyo DJs:
・smoooch! [bunny.](http://www.myspace.com/smoooooooch)
・CHERRY BOYS [Tokyo cherry] ・DaF [Dead or Alive] ・RS
・DETTO K
・DA MONDE(http://www.myspace.com/5oelectro)
・Lilith [kawaii Tokyo] ・DUSTY JOHN THOMAS [2G&LHz] ・YO YO YOS [MAKE THE CHAOS CREW] ・THE RSB
・Lie… [N id / HOPE] ・ANTI NOISE [HEISEI ISHIN] ・SHILAS [BIG BANG] ・delo delo Delorean
・TOY POOODLE [Tokyo cherry] ・Harenchu
・CaD
・i☆dol
・Lelouch
・Ma-C
・typeA [Tokyo cherry] ・si oux
・Dr. MELON
・リョーチャンドンゴン
・Gypsy Badman ft. DJ Raoul Moat
・I'm
・dot.
19:00-21:00(CIRCUS PUB TIME)
21:00-midnight(CLUB TIME)
場所:TRUMP ROOM
料金:Door:1000yen W/FULL COSTUME:0yen/FREE!
(PUB TIMEにご入場の方は別途飲み放題料金2000yen)
BUS TOUR:4000yen
(いずれもPUB TIMEにご入場の方は別途飲み放題料金2000yen)
※名古屋−東京間のバスツアーをお求めの方は一番下にある
【バスツアーチケットについて】をご覧下さい。