昨夜(2012年6月6日)エリザベス二世女王陛下即位60周年を記念して祝賀パーティーが駐日英国大使公邸にて開催された。エリザベス二世女王の即位60周年と女王陛下の公式誕生日と共に、夏に開催されるロンドン・オリンピック&パラリンピックを記念した英国ならではのお祝い。会場となった英国大使公邸では、イングリッシュ・スパークリングワインのウェルカムドリンクに、英国フード&ドリンクでゲスト陣を歓迎。
スペシャルゲストにはアーティスト布袋寅泰氏が登場し、映画「KILL BILL」のあの名曲「BATTLE WITHOUT HONOR OR HUMANITY」を披露。その後は、英国を代表するのはもちろん、世界的ファッションデザイナーとして知られるヴィヴィアン・ウエストウッド(Vivienne Westwood)のクチュール・ライン「Red Carpet Capsule Collection」の最新コレクションを世界に先駆けお披露目。
会場には日本の政・官・財・学などをはじめ、様々な分野、著名人など総勢800人名ものゲストが訪れた。特別に衣替された大使館の建物は英国ならではの「GREAT campaign」の巨大イメージが目を引く。また、ヴァージンアトランティック航空のキャビンクルーによる出迎えに、イギリスならではのフィッシュ&チップス。Carolyn Robbによる皇太子一家が大好きだったチョコレートビスケットほか、多種の英国産チーズやフードに英国ならではのドリンクでとても特別な時間を。
Thanks to Vivienne Westwood and the staff at The British Embassy in Tokyo.
Vivienne Westwood Japan 公式サイト
駐日英国大使館 公式サイト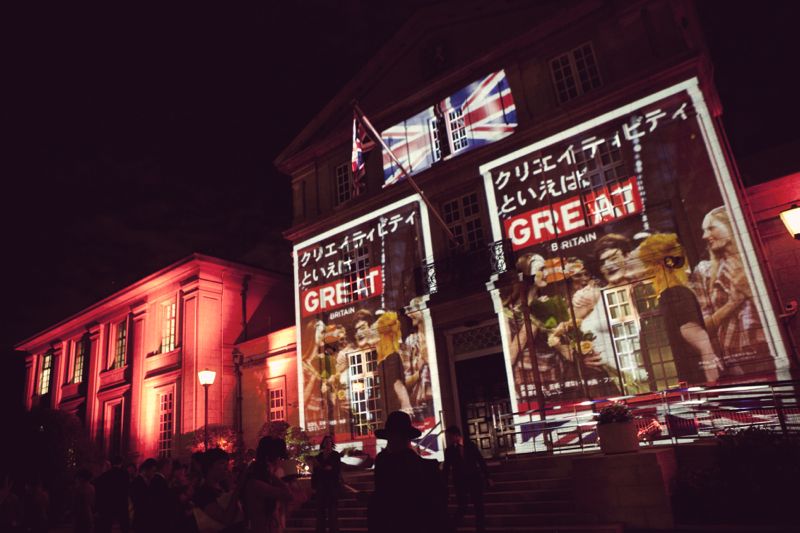 Britain spent the weekend celebrating the 60th Anniversary of Queen Elizabeth II's Diamond Jubilee in spectacular style and on Wednesday night those celebrations were brought to Japan in a smaller yet no less stylish way. The British Ambassador, Sir David Warren, opened up the British Embassy in Tokyo to 800 guests from the worlds of Japanese politics, government, media, finance and academia for the evening. 2012 is a huge year for Britain with both the Diamond Jubilee and London Olympics and Paralympics taking place and Wednesday's celebrations were about all things 'Great'. In terms of design this is best represented by the incomparable Dame Vivienne Westwood whose creative genius symbolizes the best in British design and artistic flare. At the Embassy we were treated to a runway show of Vivienne Westwood's Red Carpet Capsule Collection created in celebration of the Queen's Diamond Jubilee. Throughout her career Westwood has referenced Royal motifs and this line was no different. Regal in its splendor with ocasional flashes of patriotic union jacks, Westwood's trademark sky-high platform shoes and amazingly detailed couture took inspiration form the 17th Century Court of King Charles II. Mixed in with the Red Carpet Capsule Collection were pieces from The White Collection that consists of bridal and evening wear in white and ivory, each piece developed from signature Westwood designs. For me, Vivienne Westwood's extraordinary talent couple with a down-to-earth sensibility and sense of humor are quintessentially British and there was no better persons body of work to celebrate Britain here in Japan.
Out in the garden of the Ambassadors residence a less formal Marquee was set up for a British garden party complete with Real Ales, Pimms, Gin Tonics, Fish and Chips, Roast Beef, Roast Lamb, Coronation Chicken Sandwiches, Smoked Salmon, Rhubarb Trifle… the heavenly list goes on. Guests we spotted in the garden included Hotei (who was the surprise guest performer), Imai Miki, Yohji Yamamoto and Hiroshi Fujiwara. A thoroughly British evening and such an honor to be able to celebrate the Diamond Jubilee here in Japan, a very nig thank you to our friends at Vivienne Westwood and the staff at The British Embassy in Tokyo.