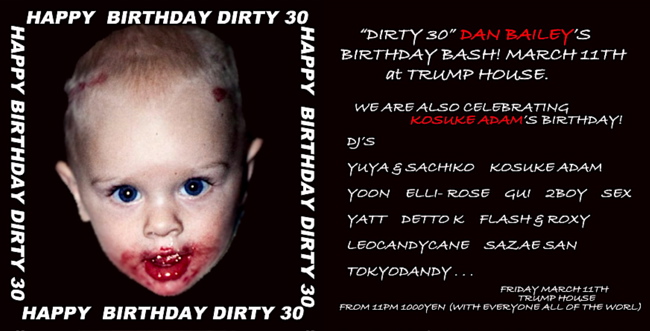 2011年3月11日にもう一つ歳を重ねる一人の男性が。はい。TOKYODANDYの片割れダン・ベイリー(Dan Bailey)が誕生日を迎えます。日頃からお世話になっている方々&フレンズを集めて盛大にお祝いしたいと思います。DJ陣にはマルチに活躍するあの方に、このお方。題して、「"DIRTY 30" DAN BAILEY'S BIRTHDAY BASH!!」。そして、もう一人の男が …。そう … 数年後に誕生した3月11日という生年月日の持ち主。コウスケ・アダム(Kosuke Adam)。ANYWAY, LET'S CELEBRATING MARCH 11TH!!
WHEN:2011.3.11 (FRI)
WHERE:TRUMP HOUSE
OPEN:23:00 – 5:00
DOOR:1000YEN (WITH EVERYONE ALL OF THE WORL)
DJ'S
YUYA & SAHIKO
YOON
ELLI ROSE
GUI
2BOY
SEX
DETTO K
YATT
FLASH & ROXI
LEOCANDYCANE
KOSUKE ADAM
SAZAE SAN
AND MORE MORE MORE SOMETHING.