昨年、「DISPOSABLE LIVES」のフォトプロジェクトで訪れた広島と福島の都市シリーズが、DAZED&CONFUSEDのデジタル版「DAZED DIGITAL」に公開された。
東日本大震災から5年が経過した福島と戦後70年を迎えた広島の都市を2015年に訪問。この2つの都市は原子関連で世界中に記憶れているが、それ以外にも伝統や歴史はもちろん、人々の心に残る素晴らしいところを知ってもらいたい。第二次世界大戦末期の1945年の原爆爆弾投下、そして、2011年の東日本大震災直後の福島第一原発。
訪れた広島では、祭典後本殿前の海中に組んだやぐらにしめなわを張り、宝珠を乗せた地盤を上下に動かす、それを褌一本の男たちが飛びつき争奪するという伝統行事「玉取祭」。福島では、400年以上の歴史を持つ日本三大祭りの一つでもある須賀川の火祭「松明あかし」。長さ10メートル・重さ3トンの大松明を約150人が担ぎ、1キロ先の五老山へと運ぶ。到着後は人間の力で垂直に立たせ、1本づつ火がつけられ、夜空を紅く焦がしていく。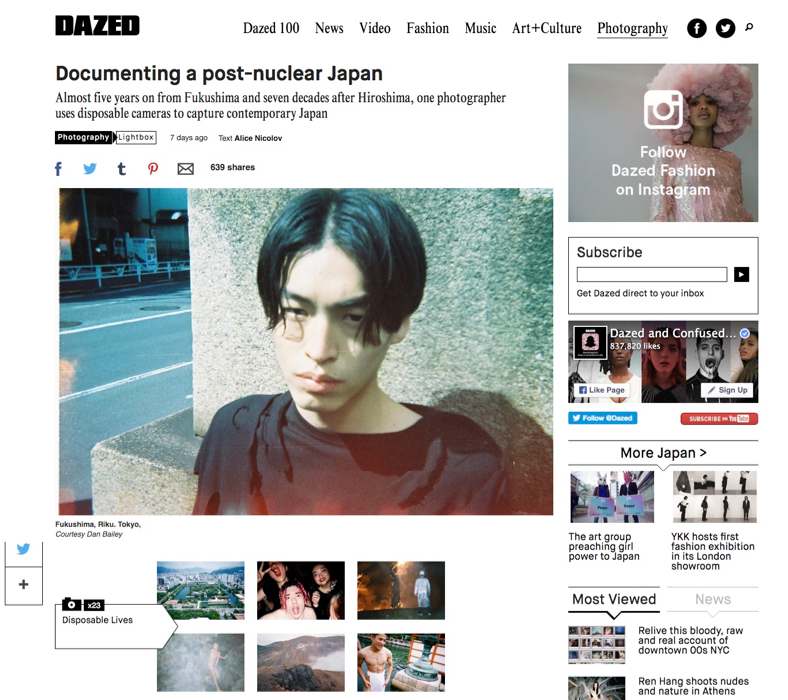 Last year I visited both Hiroshima and Fukushima as part of my 'Disposable Lives' photo project and the resulting images were featured on DAZED (see them here). In the week that Obama will be the first US President to visit Hiroshima and I wanted to take look back at some of the images.
Hiroshima and Fukushima are linked in the common global conscience by atomic events, 70 years apart. However, the two are not just cities, but large prefectures (counties/states) that can't be defined by singular events no matter how devastating.
By visiting Hiroshima at the time of the Tama-Tori Festival at Itskushima Shrine and Fukushima for the Taimatsu Akashi Fire Festival, I wanted to link them through local events that have taken place in each prefecture long before the dawn of the atomic age. Festivals that have taken place for centuries and which will hopefully continue long into the future.