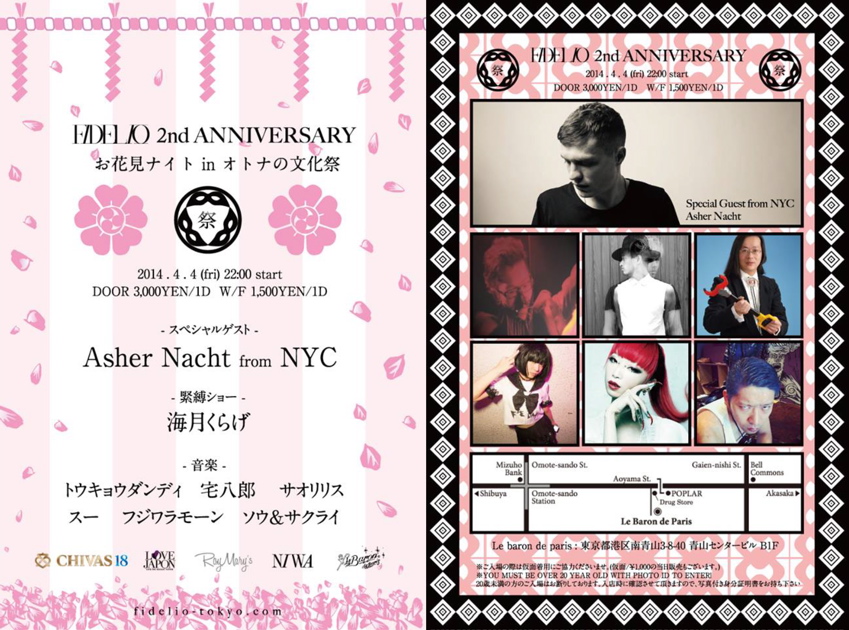 スタンリー・キューブリックの最後の遺作「アイズワイドシャット」からインスピレーション受け、2012年より開催している仮面舞踏会「FIDELIO(フィデリオ)」。コンセプトは5感(the five senses)を刺激する仮面舞踏会。
扉を開くと、空間全体に施された最高級アロマキャンドルによる上質な香りの演出に始まり、パリのエスプリと東京のモダニズムをミックスした空間でグラマラスかつデカタンスな雰囲気を堪能しながらそこで繰り広げられるさまざまな演出に加え、上質な音楽とお酒をたしなみながら大人の社交場を楽しむことができる。
about FIDELIO
'FIDELIO'―a Mascarade ball, inspired by Stanley Kubrick's last posthumous work, 'Eyes Wide Shut' The concept is FIVE SENSES. A party that stimulates your five senses.
When you open the door, you will smell the aroma candles, feel the relaxing atmosphere spreading from the rooms. Entering the rooms, you wi…ll then experience a mix of Parisian chic and Modern Tokyo, a glamorous mood all in one place.
Beautiful music and delicious wine..Please join us in Aoyama!!
視覚(空間デザイン)× 聴覚(洗練された音楽)× 触覚(社交/コミュニケーション)× 味覚(上質で多彩な酒) × 嗅覚(最高級の香りの演出)=「FIDELIO」
日程 / DATE:2014年4月4日(金)
時間 / TIME:22:00 〜
場所 / PLACE:Le Baron de Paris Tokyo
料金 / DOOR:3,000YEN(1D) FaceBook参加ボタン 1,500YEN(1D)
*エントランスで「TOKYODANDY」と言えばディスカウントでの入場可能です!
*先着200名様にLOVEJAPONより素敵な2アイテムをプレゼント!
1.Oops!Candy
→キャンディー型ローターパープル
2.PicoBong
→マッサージオイルキャンドル
LOVEJAPON → www.lovejapon.com
Le Baron de Paris Tokyo
*ご入場の際は仮面着用にご協力くださいませ。
*仮面の当日販売もございます。
*YOU MUST BE OVER 20 YEAR OLD WITH PHOTO ID TO ENTER!
20歳未満の方のご入場はお断りしております。
入店時に確認させて頂きますので、写真付き身分証明書をお持ち下さい。
Special Guest from NYC
Asher Nacht
Special Performance / 緊縛ショー
海月くらげ
Guest Music Selectors
・TOKYODANDY
・宅八郎 
・サオリリス 
・si oux
・FUJIWARAMONE 
Produce by Soichiro Nakayama & Yoshihiro Sakurai
Project organization by NIWA co.,ltd.
Supported by
・CHIVAS 18
・LOVEJAPON
・株式会社ロイマリーズ