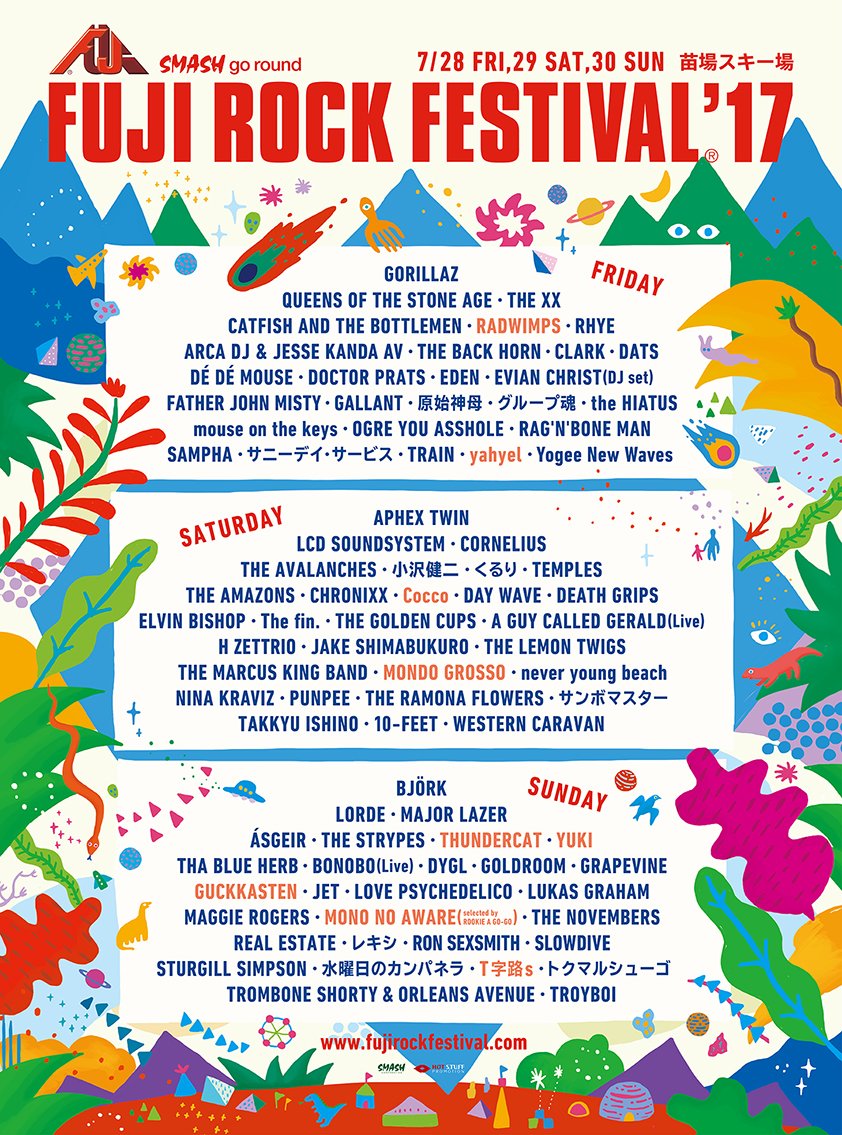 GWも終わり、夏のフジロックに向けていよいよ本格始動!新たに9組の出演アーティストが決定!
初日金曜日には、独自の世界観に満ちた歌詞、ジャンルに捉われない奔放なサウンドで、シーンの最前線で絶大な支持を集めるRADWIMPSがフジロック初登場!また、昨年リリースされたデビューアルバムが話題となり、ここ日本でも際立ってボーダーレスな存在としてさらなる活躍が期待されるyahyelも決定!
土曜日、沖縄出身のシンガーソングライターとして不動の地位を築き上げ、今年デビュー20周年を迎えたCocco。そして先日急遽シングルをリリースし、今年14年ぶりに再始動を果たした大沢伸一によるソロ・プロジェクト、MONDO GROSSO。この両アーティストによる初の苗場のステージにも期待が高まります!
最終日となる日曜日。先月末の来日公演は全てソールドアウト!圧巻のパフォーマンスと極上のグルーヴで観客を魅了し、再び迎えたブラックミュージック隆盛の立役者でもあるTHUNDERCATが初のフジロックで再来日!独特の歌声、唯一無二のライブパフォーマンスで、デビュー当時から圧倒的な存在感を放ち続けているYUKI。今や韓国を代表するロックバンドとなったGUCKKASTENも初登場です!また、オリジナリティあふれる音楽性や佇まいが魅力のギターヴォーカル、ベースのデュオ、T字路sも決定。
そして、昨年のROOKIE A GO-GO出演者による「FRF'17 出演権獲得!目指すはメインステージ!」投票企画にて見事1位を獲得したMONO NO AWAREが、今年メインステージへの切符を勝ち取りました!八丈島出身メンバーから構成され、中毒性の高いサウンドで注目される彼らの苗場でのパフォーマンスにもご期待ください。
FUJI ROCK 2017 July 28, 29, 30 Official Website (JP) here
Fuji Rock 2017 continues to update the list of acts making their way to Naeba for this years festival. The best line-up in years sees headliners Gorillaz, the XX and Bjork joined by hot new acts form all over the world. One fo our favourite new Japanese bands, yahyel is one of the latest additions.
Leaders of the Japanese rock scene, RADWIMPS scheduled to play on Friday! Much anticipated yahyel also to appear. Cocco, the much loved singer song writer from Okinawa will be making her Fuji Rock debut on Saturday along with MONDO GROSSO who is back.
THUNDERCAT is coming back to Japan after his sold out tour in April with his awesome performance that entranced the audience on Sunday, the last day of the festival. Also scheduled to play on Sunday is the popular female vocalist, YUKI, the pride of Korea, GUCKKASTEN, and the one and only guitar vocal and bass duo, Tjiros.
And don't miss the addictive sounds of MONO NO AWARE, who beat out the competition in last year's Rookie A Go-Go's Aim for the Main Stage Project.