2008年からパリに拠点を移した今最も注目されている英国出身デザイナー ガレス・ピュー(Gareth Pugh)が、ある女性に目を付けられている。その女性とは、1月に行われた彼のメンズコレクションで最前列に座り、真剣な眼差しでショーを見ているではないか。そう、LVMH(モエ ヘネシー・ルイ ヴィトン)グループのベルナ ール・アルノー(Bernard Arnault)の娘デルフィーヌ・アルノー(Delphine Arnault)だ。
彼女に目をつけられるとはどういうことだ?
LVMH社の歴史として、過去に若い英国人デザイナーを引き抜いてる例がある。
ジョン・ガリアーノ(John Galliano)がディオール(Dior)へと、そしてアレキサンダー・マックイーン(Alexander McQueen)はジバンシー(Givenchy)へと。このようなファッションハウスとデザイナーのコラボレーションは両方共に有益な契約となる。ピューがクリス・ヴァン・アッシュ(Kris Van Assche)の後を継いで、ディオール・オム(Dior Homme)のデザイナーに就任する日はくるのか。
また、今回行われたピューのコレクションにLVMHから資金提供があったことが明らかとなっている。
LVMHの傘下には誰もが一度は耳にしたことがある高級ブランド群。
ルイ・ヴィトン(Louis Vuitton)、ロンシャン(Longchamp)、セリーヌ(Celine)、フェンディ(Fendi)、クリスチャン・ディオール(Christian Dior)、ジバンシー(Givenchy)、他50近くのブランドを取り扱う企業の集合体。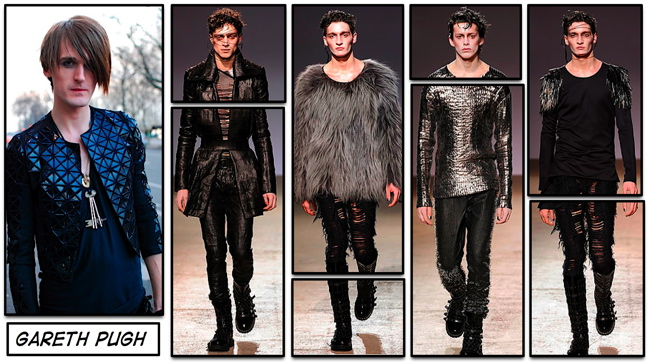 When Gareth Pugh presented his debut menswear collection at Paris Menswear week in January, attention was drawn to a woman sat in the front row. Delphine Arnault – daughter of Bernard Arnault the owner of LVMH which is the largest luxury goods group in the world. Their brands include Louis Vuitton, Longchamp, Celine, Fendi, Christian Dior, Givenchy and many more. Arnault is the 14th richest person in the world and the richest person in France with an estimated fortune of 26 Billion US Dollars.
Despite being celebrated in the fashion media for his creativity, up until recently Pugh was so broke he was having to sleep in the studio in which he made his clothes. After Arnault was seen at his show this January, LVMH confirmed that they were now actually financing Pughs work. Although under the supergroups wing, Pugh remains an independent fashion designer, and LVMH were quoted as saying they "support many young artists, even musicians".
LVMH has a history of taking on young British design talent, think John Galliano at Dior and Alexander McQueen at Givenchy. Such collaborations are beneficial to both Fashion House and Designer – the former gets fresh creative energy, the latter gets the funding for their own lines. It has got many guessing as to where Pugh would fit into LVMH as a designer. Since January the buzz around this topic has gotten so much that it seems like only a matter of time before Gareth Pugh will be named as the Creative Director of Dior Homme. Sometime this month???
The work done by Kriss Van Assche at Dior Hommes has been good. But people expect more from the brand through which Hedi Slimane revolutionized mens fashion. Gareth Pugh has a seemingly different vision to both of these designers and would bring excitement and change back to the House of Dior Homme.