「STUDIO LAFORET」と題された1日限定の巨大スタジオが「LAFORET原宿」に登場。館内で撮影が始まったと思えば、あそこではトークセッション、そこではファッションショーと盛り沢山な1日限定のホットなイベントが9月18日に開催される。人気ファッション誌、ウェブサイト、原宿アイコンピープルの集合でLAFORET原宿が大暴れ。
また、最終の18:30より行われるシューティングイベントでは、私たちTOKYODANDYも参加させて頂きます。他、デザイン集団「RALPH」より得意のグラフィックを見せてくれるYOSHIROTTEN。そして、ブルーヘアがトレードマークのMademoiselle YuliaをDJに迎えて原宿スタイルを表現。謎のボックスにも注目を。
日程:2010年9月18日(土)
場所:LAFORET原宿
時間:12:00 – 19:00
MORE INFO HERE.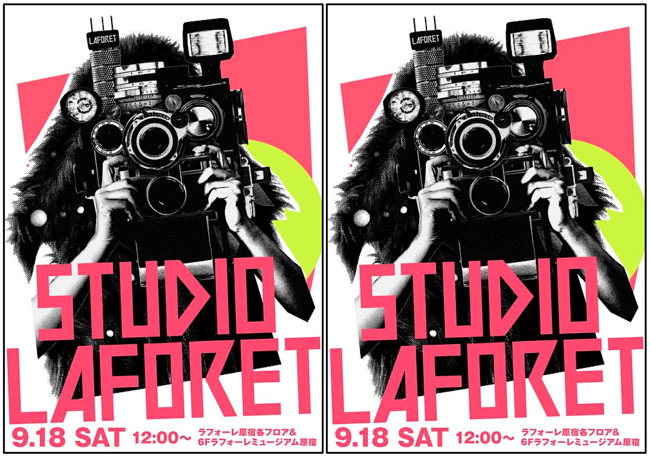 For an entire day, this Saturday 18th Septemeber, La Foret Harajuku will be transformed into 'STUDIO LA FORET' with photo shoots, talks and presentations from many top magazines, photographers, websites, models and celebrities.
La Foret is an icon of Harajuku style. But what is 'Harajuku style?' We think people often take a one-sided view, so we present 'Harajuku in 3-D'. Tokyo Dandy was asked to produce the final event of the day from 18.30. With Joe's styling we aim to demonstrate the versatile nature of Harajuku style as well as La Foret itself. I (Dan) will be photographing the event for Tokyo Dandy and the La Foret website. To enhance the look of the stage we've collaborated with our favorite graphic designer, YOSHIROTTEN, who aslo created the flyer above. No show would be complete without music so we've asked our friend Mademoiselle Yulia along to provide the soundtrack for the evening.
See you at the front of La Foret from 18.30, Saturday September 18th. More information on 'STUDIO LA FORET' can be found HERE.