ザ・ウールーマーク・カンパニーは若手デザイナーの発掘を目的としたデザイン・コンテスト「インターナショナル・ウールマーク・プライズ(INTERNATIONAL WOOLMARK PRIZE)」の最終審査を英国ロンドンにて、ロンドン・ファッション・ウィーク期間中の2月16日(土)に開催。
その最終選考に先駆け、日本を代表する「DRESSEDUNDRESSED(北澤武志・佐藤絵美子)」を含む計6組みのファイナリストによるファーストルックが本選に向けて発表された。なお、最終選考は、それぞれの作品をアピールする審査員に向けた個別プレゼンテーションの後、このファーストルック含む各組6スタイルのカプセルコレクションをショー形式で発表。
▶国際審査員◀
ダイアン・フォン・ファステンバーク、ドナテッラ・ヴェルサーチ、ティム・ブランクス(スタイル.コム編集長)、フランカ・ソッツァーニ(ヴォーグ・イタリア編集長)、ヴィクトリア・ベッカム
▶ファイナリスト◀
クリスチャン・ワイナンツ(ベルギー)、ソフィー・テアレット(米国)、ディオン・リー(オーストラリア)、DRESSEDUNDRESSED(日本)、バンカジ&ニディ(インド)、斑暁雪(中国)
▶最終審査◀
2013年2月16日(土)英国ロンドンにて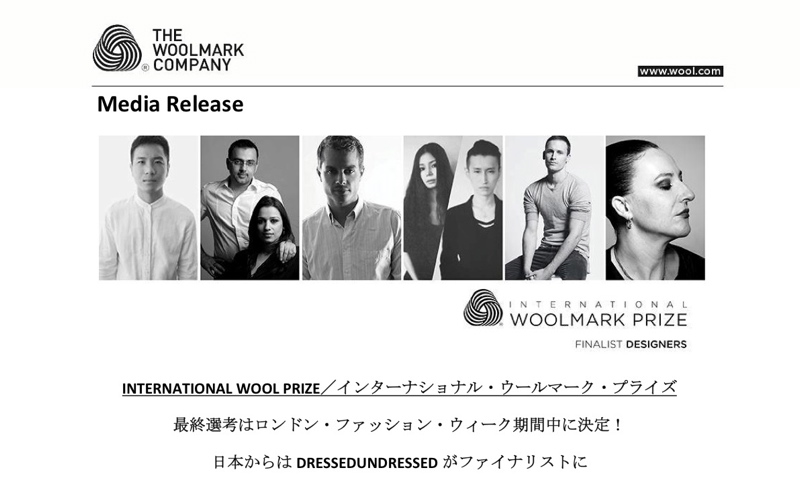 The International Woolmark Prize is an internationally focused search to find emerging designers with a focus on true talent. A 12 month search through 16 countries and 70 designers has now come down to 6 finalists who will compete for the prize during London Fashion week on February 16th. The 6 finalists are, Dion Lee (Australia), Ban Xiao Xue (China), Christian Wijnants (Belgium), Pankaj and Nidhi (India), Sophie Theallet (USA) and our very own DRESSEDUNDRESSED from Japan.
The six designers from around the globe are competing for the ultimate industry recognition, $105,000 (USD) and the opportunity to be stocked in the most important boutiques around the globe including Harvey Nichols – London, Bergdorf Goodman – NY, 10 Corso Como – Milan, Joyce – China, David Jones – Sydney and Eickhoff Königsallee – Germany.
Who is judging? A roll call of big fashion names…
Diane Von Furstenberg – Co-Chairman and Founder, Diane von Furstenberg Studio LP
Donatella Versace – Creative Director and Vice President of Gianni Versace S.p.A.
Franca Sozzani – Editor-in-Chief of Vogue Italia, L'Uomo Vogue Italia and Vogue.it. Editorial Director of Condé Nast Italia. "Goodwill Ambassador for Fashion 4 Development" for the UN
Tim Blanks – Editor-at-Large Style.com
Victoria Beckham
Andrew Keith – President of JOYCE and Lane Crawford
Carla Sozzani – Owner 10 Corso Como
Paula Reed – Group Fashion Director Harvey Nichols
Stefan Asbrand Eickhoff – Owner Eickhoff Königsallee
It's a prestigious award and we wish Takeshi and Emiko from DRESSEDUNDRESSED the best of look, we'll be cheering for you on February 16th!
Below is a look at the first looks from the capsule collections created for the occasion by wach of the designers.
International Woolmark Prize Official Website