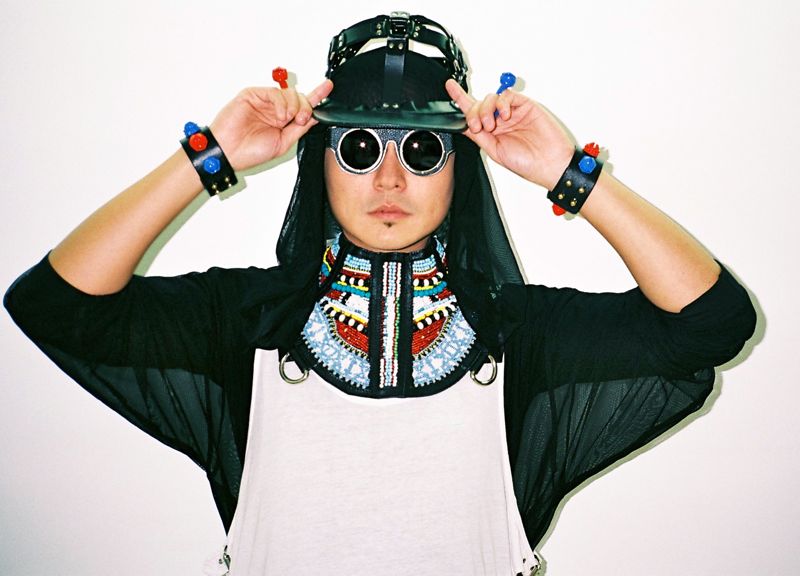 日本のエンターテイメント界とポップカルチャーシーンの双方においてインフルエンシャルでユニークな位置づけのバーバル(VERBAL)。m-floのMCとして多大な名声を博した後、5年間の彼自身でのクリエイティブプロジェクトは、日本のキッズのみならず、K-POPスターにまでも大きな影響を与えている。ミュージシャンとしては、m-flo/TERIYAKI BOYZ®として活動するほか、TVパーソナリティーとしてはバラエイティショーで司会を務めるなど。また、スタイルアイコンとしては、数々のファッション誌の表紙に登場。日本のメディアという大ステージで活躍を続けているにも関わらず、ファッションやユースカルチャーのセカンドステージでもメインプレイヤーとして活動するVERBAL。ファーストに比べるとセカンドの位置は微々たるものかもしれないが、彼自身の影響力は世界レベルと言っても過言ではない。そのVERBALのユニークなポジションを言葉で説明するには、カニエ・ウエストやキム・ジョーンズとの交友関係が分かりやすい例だと思う。ーこういった交友関係があらゆるジャンルから共通の共感が得られているはず。(そういえば、昨年ハニカムの鈴木哲也編集長がこんなことを言っていたな。ー VERBALは現代における最重要オピニオンリーダーとね。)
実際にわたしたち自身、VERBAL&YOONと共に仕事をする機会に恵まれ、彼とYOONの造り出すクリエイティブな発想には感銘を受けている。彼らが作り上げてきたモノは、単純に個人的なクリエイティブティの探究心からなるもの。東京のカルチャーに対する深い興味と理解、東京の新進気鋭の若手クリエイターのひとり、マドモアゼル・ユリアを彼自身のエージェンシー(KOZM AGENCY)からデビューさせ、runurunu, ilil といった若手デザイナーたちにステージ衣装制作を依頼し、友人であるファレル・ウィリアムをトリプル・ニップルズに紹介したりと、自身のインフルエンスを最大限に利用して人と人を結びつけているのだ。振り返れば … VERBALがTOKYODANDYの1周年記念パーティーでのDJを引き受けてくれた時は、純粋に嬉しかった。彼がわたしたちの記念日でDJをすることによって、そのパーティーを次のレベルまで引き上げてくれることが分かっていたから。そう … 彼は次のステップとして背中を押すことの出来る人。いや … そういった才能の持ち主なのだ。
ご存知、昨日「m-flo」の新アルバム「SQUARE ONE」がリリースされました。と同時に、彼のこれまでの活動や5年という月日をどう過ごしていたのか … 喋っちゃいます。
TD – m-floの最後のアルバムから5年も経ているけど、その間はどんな活動をしていたのか聞かせてください。
V – 5年前の音楽やファッションは、あらゆるジャンルの人たちが、全てに飽き飽きしていて何か新しいものを探し始めた転換期みたいな時期だったと思います。僕自身もともとファッション界の人間ではないけど、丁度ファッションシーンが活気づき始め、色んな世界が広がり始めたと思います。その辺りから、まさにTOKYODANDYがやっていることみたいに、色んなパーティーがあって、東京はすごく良いエナジーに溢れていた。AMBUSH®を始めたのも丁度その頃で、とにかく忙しかった。DJも始めたし、そこでまた僕のミュージックへのクリエイティビティに新しい領域を得ることができたんだよね。ここ何年かm-flo以外での活動は、音楽とファッションの面において僕個人のクリエイティビティの表現の場でもあったかな。とにかく忙しかったんだよね。
TD – 新しいアルバムを聴かせてもらいましたけど、以前のm-floのメロディックなHIP HOP/J-POPな感じから随分変わった印象を受けたけど …。

V – トラックはTakuが作って、2人で一緒に曲を書いてた時の前回と今回のアルバムの最大の違いは … 音楽業界と経済事情が劇的に変化したことかな。今の時代CDはあまり売れなくなった。お金があれば、誰でもプロモーショントラックを街中に走らせる事が出来る。でも、それでも前みたいにCDはバカ売れはしない。僕はそれを逆手にアドヴァンテージとして取ることにしたんだ。以前、CDがまだ売れていた頃、日本はCDセールスにおいて世界で第2のマーケットだった。島国精神からなのか、日本の市場は国内で稼ぐことのできる国だから国際的になる必要がないっていうメンタリティーがデヴェロップしたんだ。日本国内ではメンタル的にも音楽的にも外国とは全く異なる独自のJ-POPが進化した。m-floは、いつでも日本と海外のどちらのアーティストからもインスパイアされていたけれど、そんななか、僕たちの音楽はどういう訳か日本風になっていったんだよね。でも、今の音楽業界はその頃とは全く違っている。
もっと英語の歌詞必要?
もっと日本語の歌詞必要?
っていう問題を気にする必要のない世界になっている。
ニューアルバムはそんなことを考えずに、とにかく自分たちのやりたいように作ってみたんだ。実際デビューもそんな感じでした。とにかく余計なことは一切考えず何曲かやってみてそこから勢いづくんだよね。「SQUARE ONE」というタイトルは、原点回帰という意味を込めたもの。
何年もかけて進化してきたけど、昔のやり方に戻る。今まで、Takuがm-floの曲をクラブでプレイする為に、セルフRemixしていたのですが、今回は最初からダンスフロアーを意識して制作してました。売ることだけが大事な訳じゃない。彼が本当に楽しむために作ったということ。僕も、今回は普段友達と会話している様なことをラップにしました。
TD – Twitter @MrBittermelon さんから – VERBALさんとTakuさんでアメリカでのショー計画はないですか? Twitter @La_Cess さんから – パリには来ないの? Twitter @Mika_Vi Mika さんから – ヨーロッパには来ないの? Twitter @zawawa927 さんから – 名古屋にはいつ来られますか?今回のアルバムでツアー計画はありますか?

V – まず、ツアーはやります。5月26日(土)に千葉幕張メッセイベントホールを皮切りに福岡、大阪、名古屋と回ります。もちろん、海外にも行きたいです。個人的にはDJでアジアを回ったり、パリ、ロンドンにも行ったんだよね。今度はm-floを海外に持っていきたい。過去には、僕らがフィーチャしたアーティストたちと"m-flo lovers"というショーをやったことがあるけど、そういったショー形式からして東京でしかできないかな。今は、3Dマッピング技術や新しいテクノロジーを使って、もっと簡単に色々なことができて、移動が可能なDJセット/ライブショーみたいなものを作ろうと考えてます。もちろん、海外にも行きたいけど、今のところはないかな。

TD – デビュー当時に比べてかなりスタイルが変わったと思うけど、スタイリストが変わったんですか?それとも、ただ単に前よりも服が買えるようになっただけ?笑
V – (両方かな。笑)音楽の話をしていたとき同様に、日本の音楽業界ってそれぞれのジャンルにあったスタイルでいる必要があるから。それを受け入れることが必要なんだよね。髪型に至っても … 全てのスタイルがそうだったと思う。典型的な日本の階層システムで、良い面も沢山あるけど、不必要なことが多すぎたかな。スタイリングの話に戻るけど、過去にはスタイリングを別の人にお願いした事もあるのですが、現在は、YOONにスタイリングしてもらっています。彼女は僕が何を着たいか分かってるんだよね。今は全て自分たちでやっているよ。音楽作りと同じようにね。
TD – 音楽業界のアーティストやタレントは、ほんの少しだけでもクリエイティブコントロールはあるよね。それに比べて、VERBALさんは海外のアーティストと自由に交遊したりコラボしたりと、クリエイティブ面でのフリーダムを手にすることに成功しているように見受けられます。どうしてそういうことができたと思いますか?
V – とにかく、自分たちのスタイルを持つこと。音楽やファッションにしても日本のこの業界はすごく外国的だったんだと思うんだよね。コロンビアンと日本のハーフのLISAは、日本人としてのプロデューサーTakuがいて、在日韓国人3世の僕が英語と日本でラップしている。僕らは他の誰とも異なっていたから … ユニークすぎてレコード会社はどうやってプロモーションしたらいいか分からなかったんだ。こんなタイアップをやって … こうやって売り出していこう!みたいなものがなかったんだ。なので、僕たちがそのプロセスに関わらないと進まなかった。誰も僕らたちにこの方向性で行こう!とかって提案してくれたことはなかった。逆に、どうしたらいいか?と僕たちに聞いてくることが多かったかな。そうこうしているうちに、どんどん自主的になってきたんだよね。LISAが抜けて … メインヴォーカルが抜けたからもう終わりかな?と感じてしまったこともあり。が、そこで僕たちは"m-flo lovers"(コラボ)プロジェクトを始めたんだ。アメリカではよくトラックごとに色々なアーティストたちがフィーチャされてた。そこに目を向けた僕たちはこれを日本でやれたらどうかなって。オムニバスアルバム。最初はレーベル側も賛成はしてくれなかったね。賛成してもらえるまでの道のりは正直長かったよ。そんな調子でやってみたらCDが沢山売れたことで、レーベル側も数字で評価してくれたんだ。結果がでたから良かったよね。これまで、僕たちが始める前は、あまり日本ではそういったことをやっている人はいなかったからね。"m-flo loves" と名付けてからいつの間にかそれが新しいビジネスモデルになりました。一つ学んだのは、クリエイティブな人は、クリエイティブなアイデアと一緒にそれらを実現させるためのビジネスモデルも提案しなきゃいけないってこと。理由としては、アイディアを語るだけだと誰しも理解できるとは限らないから。僕らは僕らのやり方でやり続ける。今まで100%成功してきた訳じゃないから。もちろん、失敗だってしてきた。結果、何でも自分のやり方でできる能力を身につけることに成功したかな。

TD – 遊びにでかけるのは好きですか?今、東京でもっともエキサイティングな場所を教えてください。
V – 好きな仲間と一緒にいることがもっともエキサイティングかな。誰かの名誉や仕事の成功とかじゃなくて … ただ仲の良い友人たちと/仲間の中にいる雰囲気が好き。そういうことに鼓舞させられる。クリエイティビティの面では何か新しいシーンが進化するのを目の当たりにすること。そういう予感がすると、その現場に行ってこの目で見て体験したくなるんだよね。それが何なのかはうまく説明できないけど。もちろん、僕は何に対しても好奇心旺盛だけど、例としてファッションで例えると、キッズたちが独自に何か新しいことを始めようとしているとき。高円寺にあるキタコレもその一つかな。彼らのことは本当に凄いと思うし、尊敬します。彼らが何をやったとしても、それは彼らのやりたいこと。正しいかどうかは別として、彼らが本当にやりたいと思いやっていること。そんな彼らのエナジーを心から尊敬するね。僕は、消費者でもただのファンでもなく、いつでも機会があれば彼らとちゃんとビジネスをしたいと思っている。そういうかたちで、人と新しいことに関わることが好きなのです。彼らとだけではなく沢山の方たちと … イベントやレーベル、ラジオにしても同じ。現代は誰でも簡単にネットから情報を拾えるけど、僕は外に出てどこか新しい場所に行って、予想もしない様な新しいことに驚かされたい。

TD – もし友人が今週末東京に遊びにきているとしたら、彼らをどこに案内する?
V – 六本木にある日本家屋をそのまま利用した飲み屋に連れて行くかな。(TEIEN TOKYOというところなんだけど。)最初はたまたま通りかかって面白そうだから入ってみたんだ。前回、Will.i.amが来日した時に連れてった場所でもあるんだよね。彼は凄く楽しんでいたよ。最近お気に入りなんだよね。
TD – VERBALさんのスタイルは、日本中のキッズを発憤させ、K-POPやアジアのミュージシャンに多大な影響を与えているけれども、VERBALさん自身のスタイルはどこからきたもの?
V – 僕のスタイルルーツは、HIP HOP、スケボー、原宿のパイオニア達かな。ビジネススクールで勉強していたこともあり、ビジネスマンと彼らの考え方にもインスパイアされたかな。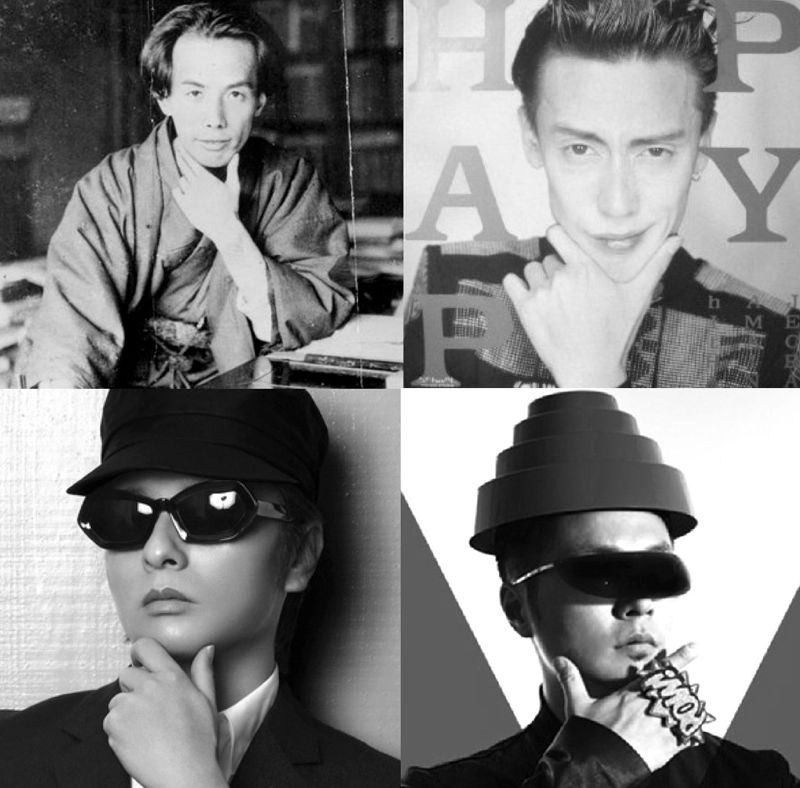 例えばあのポーズ↑。
あれは、TOWA TEIさんからの譲りもの。譲りものというか、僕がコピッたんだよね(笑)。もちろん、彼(TEIさん)自身僕がコピッたのは知ってるよ(承諾のもとね 笑)。掘り下げると、TEIさん自身、プラスチックス(The Plastics)の立花ハジメさんからコピッたもので、その前は、立花ハジメさんが小説家の芥川龍之介さんからコピッたと言われています。サングラスに関しては、ただサングラスが好きなだけ。いつの間にか"サングラスガイ"なイメージに。(サングラス付けてジュエリー付けてポーズを取れば誰でも僕になれるよ。笑)
TD – サングラスについてだが … 暗闇の中(クラブ)でサングラスを掛けてるのって大変じゃないです?
V – 実は … サングラスを掛けてあまりクラブ内をウロウロはしないかな。キミにカメラを向けられた時だけだよ(笑)。実際は、クラブでサングラスをかけてるのはDJをしている時かな。クラブ内を歩き回る時は掛けないです。特にお気に入りのやつは。お気に入りにトップ5のうちの1つでランバンのサングラスがあるんだけど、そのサングラスは運命なんだよね(笑)。酔っぱらって何度か無くしてしまったことがあるんだけど、必ず自分の手元に戻ってくるんだ。とにかくクラブでは酔っぱらって物を無くすこともあるのであまり掛けないかな(笑)。
TD – Twitter @JeLaure and @YUTOrepHIROSAKIさんから – 好きなショップはどこですか?どこで買い物しますか?
V – 買い物はYOONに任せれる事が多いです。自分で買い物する時は、例えば … ショーツがあったとして、このショーツはいらないかな。って思ったとしても、YOONなら直ぐに他のアイテムとの全身コーディネートが頭に浮かんで、必要かどうかその場で判断できるんです。だからそんな彼女の意見を聞くようにしているよ。彼女は、僕が気づかない様なことを想像できるのさ。
TD – Twittre @daheenxxxさんから – いつかあの … "BLACK OUT" のPVは公開されますか?
V – あの時 … 丁度去年の3月。本当に街中が暗かった。何もかもが衝撃的で、皆戸惑いを隠せなかったよね。そう、ただタイミングの問題ではなく、あの2ヶ月は本当に怖かった。あのビデオを公開するってことは、僕にとってあの時間を呼び戻すことになる。でも、いつかこの先公開できる時が来る事を、僕も期待してます。
TD – Twitte @etsu_asa asked Likeさんから – VERBALさんは沢山の顔を持っているけど(シンガー、モデル、デザイナー、TVパーソナリティー etc …)自分を一言で表現するなら?

V – 実は名刺も何パターンか持っているんだよね(笑)。藤原ヒロシさんが、誰かに"職業何ですか?"って質問されて際に … (正確な表現は覚えてないから別の言い方するけど。大体こんなニュアンスで)"何って答えていいか分からないけど、そうしておくのがいいんだ" 的なことを言ったって話をしてくれたことがあって。ヒロシさんはありとあらゆることをやっていて、肩書きとしてどれか1つに絞る事が出来ないのだと思います。僕も、MCもするし、DJ、デザインもする。職業は?と聞かれたら僕はただのVERBAL。全てのことを1つにまとめた時がメイクセンスなんだよね。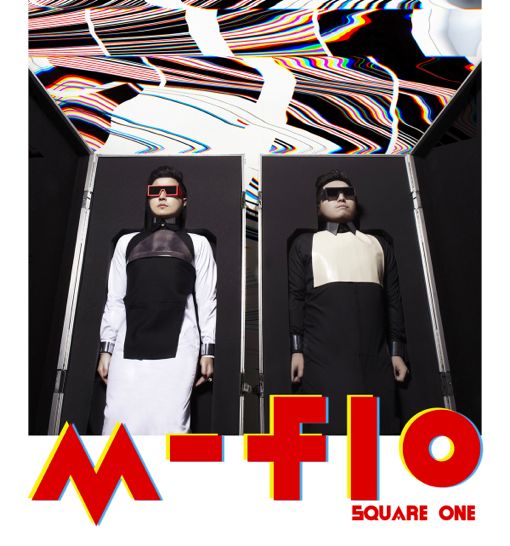 VERBAL holds a unique position within both the entertainment industry and popular
culture in Japan. The huge fame he achieved in his role as m-flo's MC has been
followed by 5 years of his own creative projects which have gone on to inspire a
generation of Japanese (and K-pop stars) alike. On the huge commercial stage that is
the Japanese media you have Verbal's roles musically in m-flo and the z, as A TV
personality on variety shows and as a style icon appearing on the cover of fashion
magazines month after month. Yet VERBAL is also a main player on a secondary stage
of fashion and youth culture, a place where genres meet and trends are set away from
the media glare. In Japan this second stage may be smaller than the first but it's
influence is global in its reach. VERBAL is the only person who plays roles on each
stage. I feel his position is best demonstrated through the close friendships he has
forged with the likes of Kanye West and Kim Jones – relationships built on mutual
respect. As honeyee.com CEO Tetsuya Suzuki told me last year, 'VERBAL is this
generations most important opinion leader', and if anyone knows what they're talking
about it's Suzuki-san.
Having had the opportunity to work with VERBAL we ourselves have been inspired by
the hands on nature he and YOON take with each and every project. These are personal
creative endeavors that just happen to be on a bigger scale due to VERBAL's
cross-over appeal. From having an innate interest and understanding as to what's
happening in Tokyo, VERBAL has used his influence to shine a light on up-coming
Creatives. This has included launching Mademoiselle Yulia through his agency KOZM,
Commissioning young designers such as runurunu, ilil and Garter to make stage
Costumes, involving underground DJ's in large-scale events and introducing friend
Pharrell Williams to the Trippple Nippples being just a few of the examples of how
VERBAL's used his influence for the greater good. When VERBAL agreed to DJ at our
own 1st Anniversary party back in 2009 we were so happy as we knew that his being
there would take it to another level. VERBAL has the ability to take things to the
next level.
We sat down with VERBAL to talk about all this and more as he returns to m-flo and
where it all began with the release of new album 'SQUARE ONE'.
TOKYO DANDY – It's been 5 years since m-flo's last studio album, can you give us a run down of what you've done in that time?
VERBAL -Well 5 years ago, with music and fashion, there was a point of conversion
where people from different fields and genres kind of got bored with what they were
doing and were looking for something new. I'm not from the fashion field but I think
at that time it got exciting and there was a merging of worlds. Like how you've
documented with Tokyo Dandy. There were lots of parties and lots of great energy in
Tokyo. Around that time I started a brand called AMBUSH® which got me busy in that
realm, and I started DJing which was another outlet for my creativity musically. So
the past few years asides from m-flo have been a personal expression of my
creativity within music and within fashion. It's kept me busy.
TD – I've listened to the new album, it's a big change from m-flo's more melodic
hip-hop / J-pop roots isn't it?
VERBAL – Taku produced the tracks, and when we wrote the songs together this time,
the biggest difference between this album and the previous ones is the fact that the
whole of the music industry and the economical climate has changed. Now CDs don't
sell. I don't care what people say, you can be the best musician there is, you can
spend loads on promotion with trucks rolling round Shibuya. But CDs just don't sell
as they used too. I kind of look at this as an advantage. Before, when CDs sold,
Japan had the second biggest market for CD sales. Because of that an island
mentality developed where the Japanese industry saw no need to go global as there
was so much money to be made here in Japan. J-pop evolved separately from the rest
of the world and was different both in it's mentality and musicality. As m-flo we
were always inspired by both Japanese and foreign artists but our output had to be
somewhat adapted to the Japanese way of things. The industry is totally different
now. We don't have to worry about things like 'Do we need more English lyrics?' 'Do
we need more Japanese lyrics?'. For the new album we just did what we wanted to do
without thinking about it, which is how we debuted. We weren't really thinking about
anything we just put out a couple of tracks and it caught fire. So the title,
'SQUARE ONE', it's how we've gone back to how we used to do things, we've evolved
over the years but this is honest. This is what Taku would do for himself as remix
tracks to play on the club floor. It's not necessarily to sell it's just something
he's made for fun. When I rap I'm not taking about seishun or sakura kind of thing
I'm just talking about whatever the hell I would talk about with friends. The whole
station has been a catalyst for us to be able to do what we really want to do on a
big level.
TD – On twitter @MrBittermelon has asked if you and Taku have any plans on putting on a show in the states, Cecilia (@La_Cess) has asked when you are going to see her in Paris, @Mika_Vi Mika has asked when you guys are coming to Europe, @zawawa927 has asked if you're coming to Nagoya, basically, is this album getting a tour?
V – We're going to do. From May 26th at Makuhari Messe, we're going to be in Nagoya,
Fukuoka, a lot of the major cities. We would like to go overseas, I've been through
Asia myself DJing, in Paris and London too. We'd love to bring the m-flo set
overseas. In the past we've had the m-flo loves shows with all the artists we've
featured and it's only possible to do that kind of show in Tokyo. Now we're trying
create a set that utilizes new technology such as the 3-D mapping I have access too
to create a set that's more of a DJ set/live show. We'll be more capable of moving
around and doing different kind of things. We'd like to go overseas of course but we
don't have any plans to do so right now.
TD – Your style has changed a lot from when you first start out. Did you get a new stylist or is it just because you can afford better clothes now?
V – Both (laughs). Like how when I was talking about music, about how we had to
adapt to a certain way, the Japanese music industry was set-up so that you had to
also look a certain way to fit your genre. Your hair had to be a certain way. If you
were a hip-hop artist you had to be down with this person, and this look/brand etc.
The Japanese hierarchy system, there's are lots of good things, but there are also
lot of unnecessary things that just cause waste. Such as with styling. I've had many
good stylists but I always knew what I wanted to wear. The stylists would bring
stuff that I already had or had even better things at home. YOON styles me now, she
knows what I want to wear. I used to say to the label, 'Can't I just get the budget
and do it myself?' and they'd respond with, 'no, that's rude and offensive for our
in-house stylists' and I'd tell them 'It's rude and offensive to pay money for me to
look stupid'. Eventually I broke the system and we do it all ourselves. So just like
with the music, I get to do what I want.
TD – Artists and personalities in the entertainment industry here in Japan have
little creative control over their micro-managed careers. On the other hand, you've
achieved a level of creative freedom more commonly associated with foreign artists. How or why do you think you've been able to do this?
V – From the get go our style of music was very foreign to the Japanese industry.
You had a Colombian Japanese girl Lisa, Japanese producer Taku Takahashi and then
me, a 3rd generation Korean called VERBAL rapping in English and Japanese. We didn't
sound like anything else out there. We were unique and the record company didn't
know how to handle us or promote us. There was none of the traditional 'OK let's do
a tie-up with this thing and let it sell'. They always had to be creative in how to
market us. This meant we got to work with people who were very passionate in what
they do. We were involved in that process because they had to ask us about what was
coming next. No one was telling us how to be, they were asking us how things are,
and we became autonomous because I always had to drive what we were doing. After
Lisa left, and lets face it, when the lead vocalist leaves your group you're usually
pretty much done – we started on the m-flo loves project. We saw people in the
States featuring each other on tracks and thought why not bring that to Japan. At
first he label thought is was weird, like an omnibus album and not m-flo. It took us
a long time for them to be OK with it and once it was done and sold a lot the label
was happy. Now everyone is featuring everyone else on their tracks. Before we did it
nobody else really did that in japan, especially inter-label. We just coined the
phrase 'm-flo Loves' and it became a new business model. One thing I've learned over
the years is that when you're creative you also have to suggest a business model
alongside your idea because not everyone understands the creative language. You need
to think with both sides of your brain at the same time and be able to convey to a
multitude of industry people what it is you are trying to do and why. They won't
necessarily listen to some new music and think 'yeah this sounds like a hit' they'll
think 'this doesn't song like a hit I've heard in the past' you need to change the
melody'. But we'd be like 'F' you we're going to keep doing it our way'. I mean,
I've not been 100% successful, I've made mistakes along the way, but in general I've
achieved the ability to be able to do things my own way.
TD – I know you enjoy going out a lot, what excites you in Tokyo right now?
V – I just like good company. Regardless of someone's fame or business success I just
like being around good people. that's inspirational. In the context of creativity,
what excites me is seeing the evolution of a new scene. Whenever I feel that I want
to be there. I can't describe what it is, I just have a radar for picking up on
interesting new people and places and what's happening. of course I have a wide
range of interests but in terms of fashion, I like seeing these new kids sort of try
and do something on their own. That's why I really respect these Kita Kore kids,
whatever they do, they're dong their own thing. Regardless of whether it's right or
to it's just what they want to do and I really resect that energy. I'm not just a
consumer, not just a fan, if and when it's appropriate I'm able to hook them up
business wise. I like to get involved in that way when people are setting up things
like new events, labels or internet radio etc. It's so easy to go online and see how
things are these days but I like to go out and go somewhere new and get bombarded
with new information that was un-foreseen. I don't want to go somewhere like
Shanghai and have people show me what we already have in Japan, I want to see
something that's new there. I want to see something new. That's what drives me. I'm
thirsty for new things all the time.
TD – If your had a friend in town this weekend where would you take them out?
V – There's this place Teien in Roppongi. Like this old Japanese house, like a big
manor. I think it might be a members bar. I didn't know that when I first went in I
was just passing by and it looks interesting so I wanted to check it out. Last time
will.i.am was in town I took him out there and he really enjoyed it. That's my
newest favorite place.
TD – Your style has inspired a whole generation of Japanese kids and beyond and
there are obvious references to both your look and your music throughout K-pop and Asian music in general. Where others have copied you've originated a very distinct and unique sense of style, where's this come form?
V – My roots in hip-hop, the skate scene, and a lot of the Harajuku pioneers. I went
to business school, I am inspired by business men and how they think. Just because
of who I am and how I look even if I wear something chic or mode it will still come
off as kind of street either way. Whether that be the shades I wear or my jewelry. I
used to skate and because of my knowledge and interest I that scene what I were
doesn't always come across as being particularly hip hop. And it always comes back
to the pioneers. I mean, the way I pose, I got it from Tei Towa, he knows I copied
him. He's ok with it (laughs). In turn thought, Tei Towa a got that from Tachibana
Hajime from The Plastics, and he got it from Akutagawa Ryūnosuke who's like this old
writer from the 19th century. I'm just a predecessor of the pose (laughs). And the
sunglass thing, I just really like them, I became a collector and ended up being
'the sunglasses guy'. Pretty much if you wear sunglasses and jewelry and do this
pose it's pretty much me.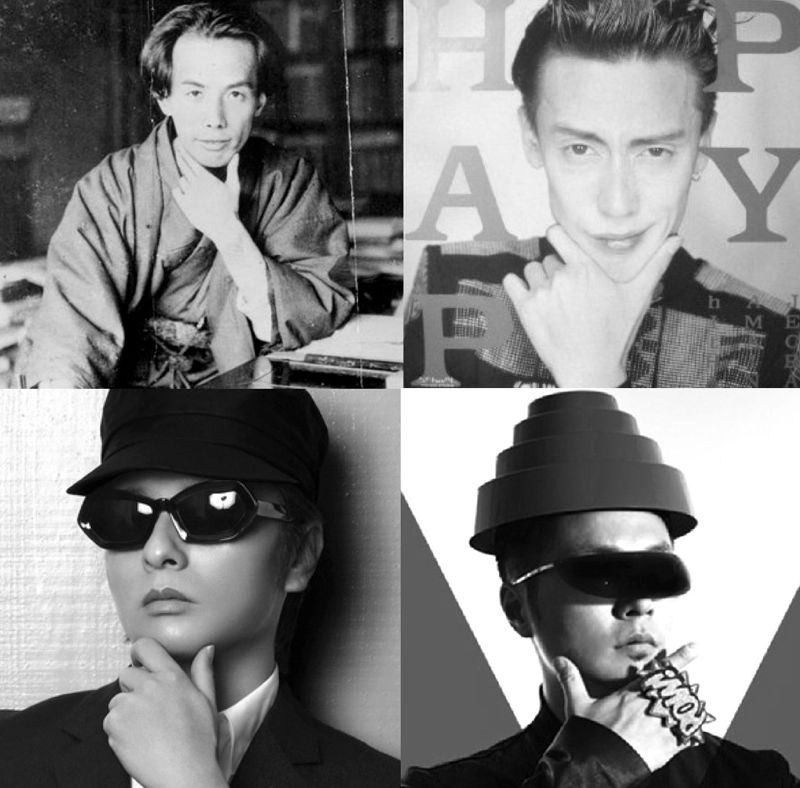 'Evolution of a pose' – From top left – Writer Akutagawa Ryunosuke (1892-1927), Tachibana Hajime (The Plastics), Towa Tei, VERBAL
TD – I've tried wearing shades in clubs before, it's difficult, how do you see around?
V – Well I don't really walk around clubs wearing sunglasses. Just when you're
sticking a camera in my face (laughs). No, I only wear sunglasses when I'm DJing.
Not like I'm walking around clubs. And especially not nice sunglasses. Lanvin Way
Shiners are like one of my favorite top 5 sunglasses ever. I've lost them at least 6
times in Le Baron and Trump Room but they always come back to me. They're the
glasses of destiny (laughs). But yeah, I drink too much and lose them so it's best
not to wear the out.

TD – @JeLaure and @YUTOrepHIROSAKI want to know what shops do you like, where do you do your shopping?
V – YOON pretty much does it. When I buy clothes, I see a pair of shorts or
something and think 'I don't need these shorts' but YOON has this great eye, she can
look at a piece and see a whole outfit. She can visualize something that I otherwise
wouldn't notice so I usually trust it to YOON.
TD – @daheenxxx asked if you are ever going to release the 'Black Out' video?
V – Actually March last year was a dark time. It was pretty emotional. It's not just
about the fact the timing wasn't right then, that whole couple of months was rally
scary. For me to release the video would be kind of bringing that time back for me.
Maybe some time in the future the time will be right but for me that's kind of a
representation of dark times. So not any time soon.
TD – @etsu_asa asked, 'You have a so many faces, for example, DJ, Singer, Model, Designer, TV Talent…. how would you describe what it is you do?' I guess, what
would your title be on a business card?
V – Well, I have a few business cards (laughs). Hiroshi Fujiwara once said to me,
when some one had asked him 'what do you do?' and I'm are-phrasing here but he said
something along the lines of 'I can't really say and I like keeping it that way' you
know. I mean he does a whole multitude of things and the things I know he is doing
is just the tip of the iceberg of all the stuff he's doing and has got going on. But
me? I MC, DJ, design. I'm just VERBAL. When you put it all together it just all
makes sense.
m-flo 'SQUARE ONE' is out now Rhythm Zone Avex Records.
Photo & Interview by Dan Bailey