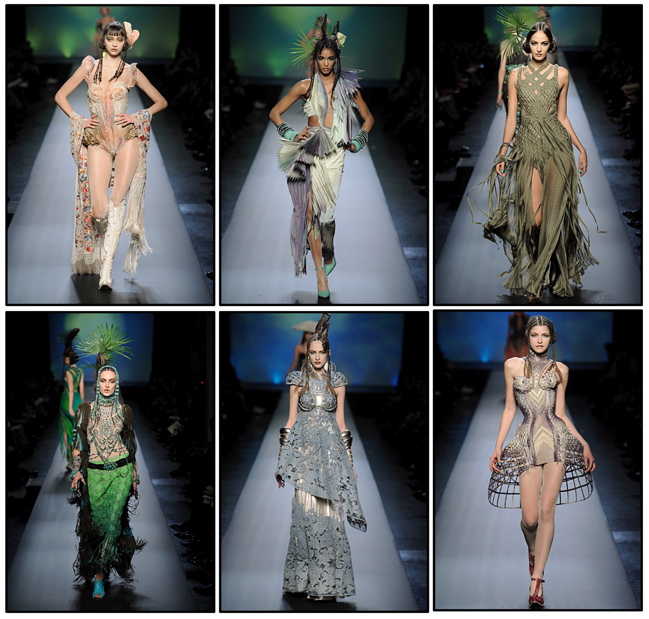 パリのオートクチュール・コレクションがスタートし、初日に飾ったジバンシー、ゴルチエ、ディオールとどれも人気メゾン。そのなかからジャンポール・ゴルチエ(Jean Paul Gaultier)をピック。
ゴルチエと聞くとやはり1990年にマドンナの衣装で円錐形のブラとコルセットを一体化させたルックが頭に浮かぶ。そんなゴルチエならではの技法が今でも残りつつ、華麗なかたちで最新オートクチュール・コレクションを発表したゴルチエは、戦士プリンセスのようなモデルの登場に驚くべきディテールと少し日本の雰囲気が感じとれる。
Haute Couture week in Paris was really hit and miss. Perhaps confused by these times of recession designers failed to realize the customers siting front row at HC week still have very deep pockets, and those with less money are waiting to see something amazing.
After a couple of disappointing first days with Givenchy and Dior, Jean Paul Gaultier presented his latest collection which was the highlight of the week. The models looked like warrior Princesses, armored couture in lush greens with amazing detailing. Arming women's bodies has been a trade-mark of Gaultier's since he designed Madonna's iconic conical bra back in 1990.
A fraction of a percent of the people who watch the Couture shows will actually buy anything from the collections. It's about creating fashion as a fantasy, brand image being paramount to sell the real money spinners such as fragrances. This is another arena in which Gaultier excels, his fragrance commercials are exquisite…..