韓国人デザイナー「Juun. J(ジュン・J)」の2013/14年秋冬コレクションが発表された。会場はパリ・セーヌ川の右岸にある美術館「Palais de Tokyo」。雪と氷に閉ざされる真冬のフランスで「Reversing」をテーマにオーバーサイズのオンパレード。カラーパレットは、グリーンやブラック、グレー、ホワイトをベースに、レザーやシルクだと思われるブラウンとグリーンのアイテムが多数登場。なんだか、現代の捻りを加えた第2次世界大戦の芝居でも見ているようだった。これぞパリに相応しいアジアンデザイナー。終盤、前身頃にプリントされたカラフルなグラフィックが観客の目を止める。セリーヌやバレンシアガでお馴染み太いアームのジャケットにブリソン。今回はタコや犬、白鳥や虎を特徴とした大胆なグラフィック。More photo HERE!
そして、話題となったのはオープニングを飾った俳優でモデルのイ・スヒョクの登場だった。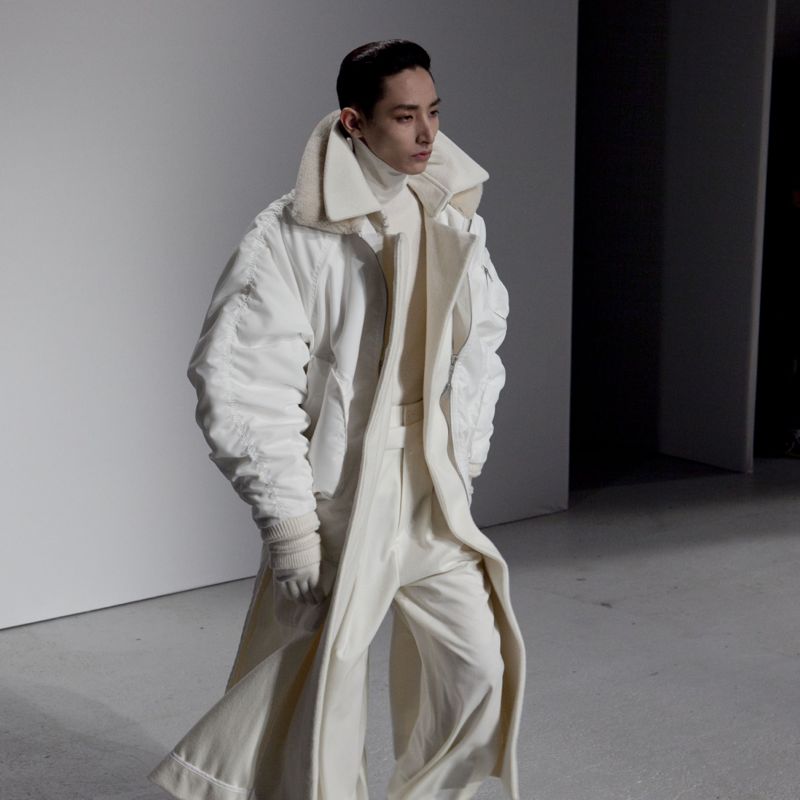 Juun.J's collection for Fall-Winter 2013-14 in Paris couldn't have come at a better time. As snow began to fall in the french capital, the South korean designer paraded a series of over sized outerwear at the Palais de Tokyo venue. Playing with sizes has become something of a trademark for Juun.J, this season's theme of 'Reversing' saw jacket pockets and linings on the outside of garments in a color palette of greens, blacks, grays and whites with texture added by leathers and silky browns and greens. It was almost a 1950's play on World War II uniforms given a throughly modern twist. To end the show, each model reappeared wearing oversized sweaters featuring bold graphic patterns which featured octopus, dogs and swans. A visual assault which contradicted yet some how completely complimented what had just been shown. The casting was a role call of Asia's male modeling talent. Check HERE for a complete frontal look of the show.
PHOTOS BY DAN BAILEY