アートにできること …。ファッションにできること …。そして … エンターテイメントにできることを形にしたく、多数のアーティストやブランドのご協力のもと、Le Baron de Parisにて「Art & Fashion Charity Auction」が開催される。
今回のオークションの収益は、東北地方太平洋沖地震被災者支援のため、国際人道支援組織「ジャパン・プラットフォーム」へ全額寄付させていただきます。
日時:2011年5月13日(金)
場所:Le Baron de Paris
時間:OPEN 21:00 – チャリティーオークショ: 22:00 – 23:00 アフターパーティ:23:00 –
▽ 参加アーティスト・ブランド ▽
Alain Milki / Andre / BALENCIAGA / DITA / Dom Pérignon / Enlightenment / Gardar Eide Einarsson / GUCCI / ヒロ杉山 / Jose Parla Kaws / Louis Vuitton / Mark Ryden / Nike Bowery Stadium x Andre / 新田桂一 / 館鼻則孝 / sergio rossi / 新木友行 / 篠山紀信 / 杉本博司 / 高橋盾 (Undercover) / 寺尾勝広 / Olympia Le Tan / VALENTINO / 横尾忠則 /Yves Saint Laurent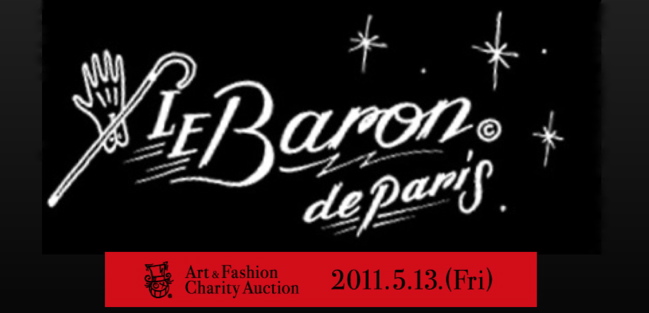 This Friday, Le Baron de Paris Tokyo draws upon it's connections with top brands and artists to put together a charity auction to raise money for JAPAN PLATFORM, an agency which brings emergency relief to areas affected by natural disasters.
The highly desirable items include some very special editions from the likes of André Saraiva, BALENCIAGA, Kaws, Louis Vuitton, Keiichi Nitta, Noritaka Tatehana, Valentino and Yves Saint Laurent. PREVIEW THE ITEMS HERE !!!, OR, you can view the items May 12th and 13th at the HIROMI YOSHII Gallery in Roppongi.
The auction takes place from 22.00 – 23.00 at le Baron followed by an after party from 23.00 onwards.