2011年春夏キャンペーンが解禁となり、ミラノでは2011/12年秋冬コレクションが動き始め、イタリア・フローランスでは、プレコレクションが行われていた。そして、東京・表参道ルイ・ヴィトン(Louis Vuitton)では、新たにアートスペースがオープンとなった。
2011年春夏ルイ・ヴィトン キャンペーンには、クリステン・マクメナミー(Kristen McMenamy)、ラケル・ジマーマン(Raquel Zimmermann)、フレジャ・ベハ(Freja Beha)らの3人が登場。
The first runway shows of 2011 are now taking place, magazines are full of Spring 2011 campaigns and pre-fall collections have already been presented. Top of the luxury ladder, LOUIS VUITTON, leads the well heeled charge into 2011. First off is the exotic S/S 2011 campaign starring models Kristen McMenamy, Raquel Zimmermann and Freja Beha photographed by Steven Meisel. In the top photo you can see Louis Vuitton Creative Director Marc Jacobs on-set styling the heavily Asian themed shoot.

本日(2011年1月15日)オープンとなったルイ・ヴィトン表参道のアートスペースは、各界で活躍するアーティストの作品展示に、個展などを定期的に開催していくとのこと。題して、「Espace Culturel Louis Vuitton Tokyo」。
今回のオープニングでは、フランス人アーティストで、グザヴィエ・ヴェイヤン(Xavier Veilhan)の作品が展示されている。そう … お気づきかと思うが、パリにある「Espace Culturel Louis Vuitton」の設立5周年を記念し、新たに登場したのが「エスパス ルイ・ヴィトン 東京(Espace Culturel Louis Vuitton Tokyo)」ということ。世界的に評価された彼の作品を是非見にいってみるべし。(入場料無料 7階フロア)
In Tokyo yesterday, January 15th, Louis Vuitton opens the 'Espace Louis Vuitton Tokyo' on the 7th Floor of it's refurbished Omotesando store. The space has been undergoing renovations for months and a huge glass cube has been created at the back of the store, images of which by day and by night you can see below. The inaugural exhibition, with free entrance, is by French artist Xavier Veilhan. Usually gallery spaces on top of stores are a marketing technique to get people into the stores. This works especially well in japan were consumers feel the need to buy something to 'mark the occasion'. But LVMH has a consistent reputation for supporting the arts so we expect exciting things from this space in the future.

Often pre-fall collections signify the direction in which a brand is taking their AW runway shoes. If that's true of Louis Vuitton's pre-fall collection then we're excited to see what the brand is going to present in Paris. There are some striking looks, none more so than that hat/hood pieces below. See the full Louis Vuitton pre-fall 2011 collection on Style.com HERE.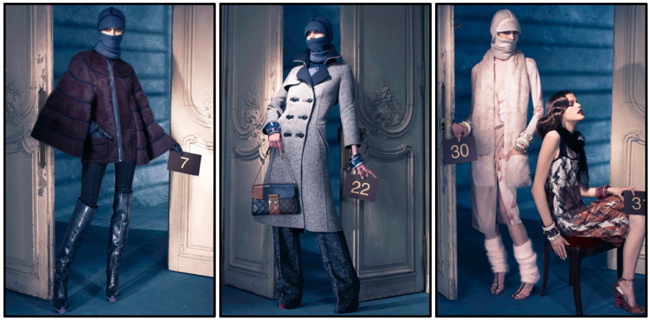 そして、ルイ・ヴィトン(Louis Vuitton)の2011年春夏ジュエリー・キャンペーンに16人の「It' Girls」が起用。日本からは、トム・フォードの2011年春夏コレクションにも登場した女優の菊地凛子(Rinko Kikuchi)に、各国々からのニューフェイス、(Nathalie Love, Mohini Geisweiller, Annabelle Dexter Jones, Mary Charteris, Alka Balbir, Charlotte Lebon, Alexandra Richards, Hailey Gates, Lina Esco,)モデルに新人女優らが登場。
16 new 'it girls' were all photographed for the new Louis Vuitton 2011 'fashion jewelry' collection. This is aimed at the younger Vuitton customer and the campaign aims to portray the fun side of the brand. Three shots of which are below, Camille Rowe-Pourcheresse, actress and top model from Paris, American actress Hailey Gates and Rinko Kikuchi. Rinko again. All these new young faces and Japan offers up Kikuchi-san. I like her and all but there are fresher 'it-girls' in Tokyo, I wonder if this is who the Japanese LV Marketing/PR recommended? Enjoy the making of video.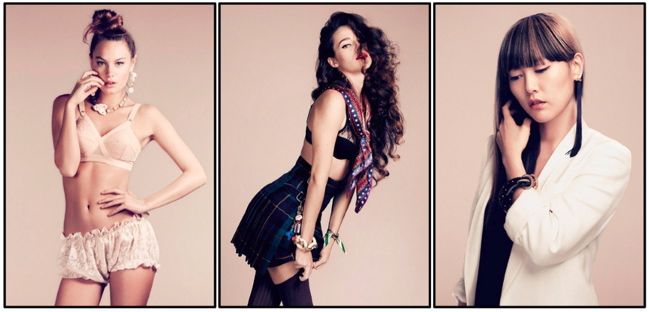 最後はこちら。マーク・ジェイコブスの新しい新居がW MAGAZINEのウェブサイトにて紹介されていることだ。数年前の記事だがとても興味深い。マークといえば、ニューヨークブランドということもありニューヨークに住んでると思っていなかった?それが、パリだったのだ。そう … 97年よりルイ・ヴィトンのデザイナーも兼任していて、その年の一年前(96年)にはパリに移っていたとか。さらに、モダンアートに包まれた彼の自宅は、お洒落な美術館を想像させる。W Magazine WEBSITE HERE.
And finally, we came across this recently, it's a couple of years old but if you haven't seen it before it's interesting. Marc Jacobs, although synomonous with New York, actually moved to Paris in 1996 to begin working with Louis Vuitton. In this article from 2007 W Magazine takes a look around Marc Jacobs French home whilst discussing his ever growing collection of Modern Art. See the full article on the W MAGAZINE website here.