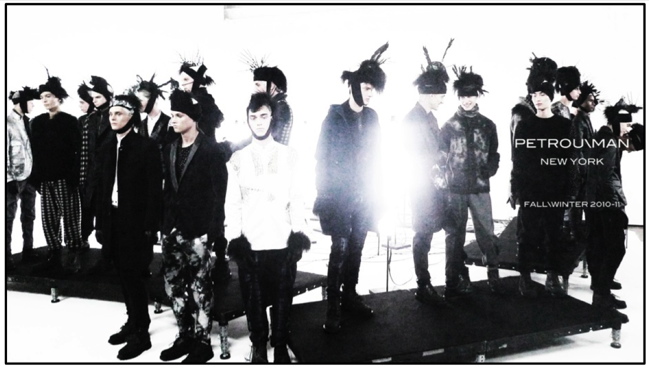 ニコラス・ペトロ(Nicolas Petrou)によるペトロ・マン(PETROU MAN)の2010年秋冬コレクション。彼は沢山の有名デザイナーが出ているロンドンのセント・マーチンズ(St. Martin's)卒で、今回で2回目となるメンズ・コレクション発表。なんだか現代の匂いが漂い、モデル選び抜群の演出。(2010 S/S Collection HERE.)そして、気になるスタイリングを担当したのはDazed and Confusedでおなじみのロビー・スペンサー(Robbie Spencer)。「納得」と言いたいくらいロビーの技が見られる。click HERE.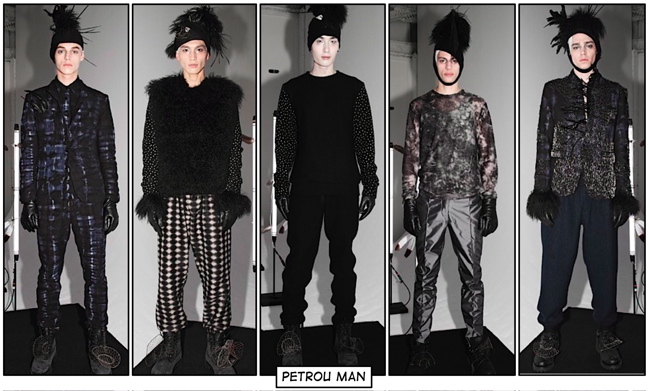 St. Martin's graduate Nicolas Petrou presented his latest collection for PETROU MAN F/W 2010/11 this past New York collection season. This was the second menswear collection from the designer who is obviously unafraid of making a strong stylistic statement (see the S/S 2010 collection here). The styling by Dazed and Confused's Robbie Spencer completed a collection inspired by nomads, with sportswear materials fused with more traditional tailoring and more modern quirky embellishments such as hundreds of safety pins.
Visit the PETROU MAN website HERE.