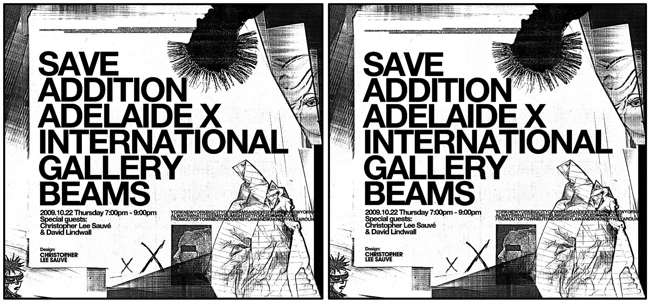 この秋、世界同時不況や効率第一のファッションシーンに一石を投じるべく、"ADDITION ADELAIDE"と"International Gallery BEAMS"がタッグを組み、"SAVE FASHION"をスローガンに掲げたイベントを10月22日(木)〜29日(木)の8日間の期間を設け開催。
多彩なデザイナー・アーティスト達とのコラボレートによって実現したスペシャルピースをADDITION ADELAIDEとInternational Gallery BEAMSの2店舗で発表。初日である10月22日(木)には、原宿でデモパフォーマンスを行う他、世界のファッションシーンで話題のアーティストをスペシャルゲストとして招き、インスタレーション及びレセプションパーティの開催を予定している。
ー 限定アイテム展開ブランド ー
ANN DEMEULEMEESTER (Paris)・BESS(NY)・CHRISTOPHER LEE SAUVE(NY)CHRONICLES OF NEVE(Austlaria)・COCO(Paris)・DISAYA(Bangkok)FAD3 (Tokyo)・GIVENCHY(Paris)・JAS-M.B(London)・LD TUTTLE(LA)TUESDAY NIGHT BAND PRACTICE(London) etc…
ー INSTALLATION & RECEPTION PARTY ー
2009.10.22 THURSDAY 7:00 – 9:00pm
at THE GALLERY *渋谷区神宮前4-21 OWビル2F
ー AFTER PARTY ー
2009.10.22 THURSDAY 10:00 –
at Le Baron de Paris *港区南青山3-8-40 青山センタービル B1F
ー GUEST DJS ー
DAVID LINDWALL
JAS from JAS M.B
WALTER from GRIAO
EVERYBODY COME ALONG TO THE EXHIBITION AND AFTER PARTY OF " FUCK THE RECESSION, SAVE ADDITION ADELAIDE AND INTERNATIONAL GALLERY BEAMS" ON THE 22nd, this THURSDAY!!!
THIS PARTY IS GOING TO BE SICK.
DATE: 2009.10.22 PM7:00 – PM9:00
LOCATION: THE GALLERY 4-21 Jingumae, Shibuyaku OWL building 2F
and then After Party at Le Baron de Paris from 10pm~
ー SPECIAL GUESTS ー
CHRISTOPHER LEE SAUVE (ART DIRECTOR OF THIS EVENT)
New york based artist ,the art director of Alexander Wang, Diane von Furstenberg..etc.. who also makes his own line of t-shirts that became controversial collector's items after being embraced by NEW YORK MAGAZINE, VOGUE, ELLE, and PEREZ HILTON.
DAVID LINDWALL (COLLABORATOR and GUEST DJ)
modeled for Dior Homme Campagine, who now DJs and designes his T-shirts line "David Lindwall, Reborn, 1982"
ー GUEST DJS ー
DAVID LINDWALL
JAS from JAS M.B
WALTER from GRIAO