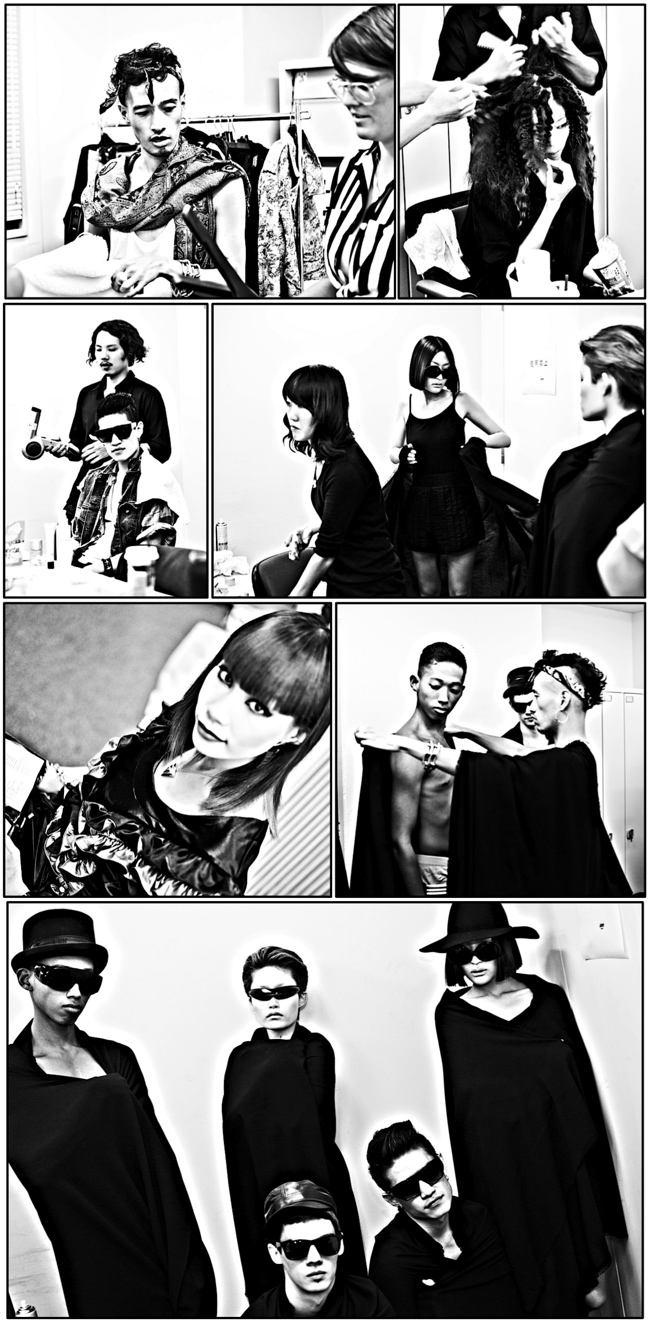 2010年9月18日(土)12時より開催された1日限定の巨大スタジオが「LAFORET原宿」に登場。題して、「STUDIO LAFORET」。その中の「HARAJUKU in 3D」が18:30より行われ、黒のマント姿に身を包んだモデルたちがエントランス脇から登場。何処へ行くかと思えば、謎のボックスの中へ消えていったのだ。そう … 謎のボックス内では今回スタイリストとして参加させて頂いた自分(Joe)とヘアメイクの子が待機していたのだ。気づいたかな?そうフィッティングボックスということだ。中ではモデルたちによる早着替え、スタイリング、ヘアと最終チェックをし、モデルたちを外へ出していく。という流れだったのだ。
要するに、「フィッティング」「ポージング」「メインステージ」と3つのスペースを使ったシューティングイベントを立体的に表現したコラボレーション。
そして、デザイン集団「RALPH」より得意のグラフィックを見せてくれた「YOSHIROTTEN」に、ブルーヘアがトレードマークの「MADEMOISELLE YULIA」のDJサバキ。ヘアを担当した「Taro」。忘れてはならない6人のモデルたち、「Cammy」「Fuyuri」「Tanc」「Maho」「Sono」「Detto k」(一番下の写真左から)。そして、アシスタントとして手伝ってくれたアンバー(Amber)。Thank you so much and enjoy photo report.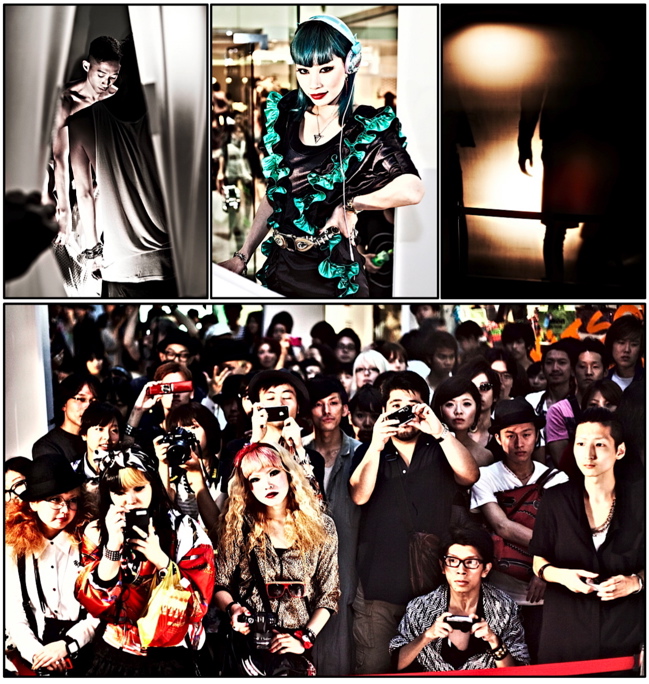 September 18th saw La Foret Harajuku turn itself into a Studio, inviting editors, stylists, photographers and models to take part in a series of events throughout the day. Tokyo Dandy put together the final event of the day a fashion presentation we called 'Harajuku in 3D', a name we chose as through Joe's styling we wanted to demonstrate the many dimensions to Harajuku style and the stores within La Foret (from which all the clothes were selected).
6 models started off the show dressed head to toe in black (bottom of the black and white backstage photos above). As DJ Mademoiselle Yulia began to play, the models walked the street outside La Foret until they got the the 'styling box' where Joe dressed them up (as pictured to the left and right of MDM Yulia above). Quite a crowd had gathered outside and I don't think they got to see the models enter the styling booth which was a shame, we'll know to do it different next time. From the box they then took their place in front of a picture frame designed for the occasion by YOSHIROTTEN. I photographed them before they joined Mademoiselle Yulia on the stage. I think Joe did a really god job in styling the six models, the final picture I think shows great balance through a variety of styles.
La Foret is an iconic landmark in Harajuku so it was an honor to take part. It's the first time we've put on a show like this and it was a lot of fun, something we would definitely like to do again (but with a rehearsal next time). Thanks so much to everyone who came out to support us, and the models who were (from left in the bottom photo) Cammy, Fuyuri, Tanc, Maho, Sono and Detto k. Thanks to Taro Yoshida (website here) for doing an excellent job with the hair and make-up and to Amber Joy (MAKE BELIEVE) for assisting Joe.

STUDIO LA FORET