1995年に渡仏し、パリでフォトグラファーとしての基盤を築き上げたオオシマタカオ氏。東京とパリというかけ離れた2つの都市を自らの「個」の力でつないだフォトグラファー。そんな彼が東京とパリで出会ってきた俳優や映画監督、デザイナーにDJなど、モノクロームで撮りためてきた中のセレクション約17点。また、ランドケースは東京とパリのグラフィカルなカラー写真、約16点。 楽しみすぎるこのエキシビション。是非足を運ぶべし。and more info HERE.
ー TAKAO OSHIMA U FACE ー
場所:GALLERY SPEAK FOR
日程:2月5日(金)- 2月17日(水)
時間:am11:00 – pm20:00 (毎週木曜休)
TEL:03-5459-6386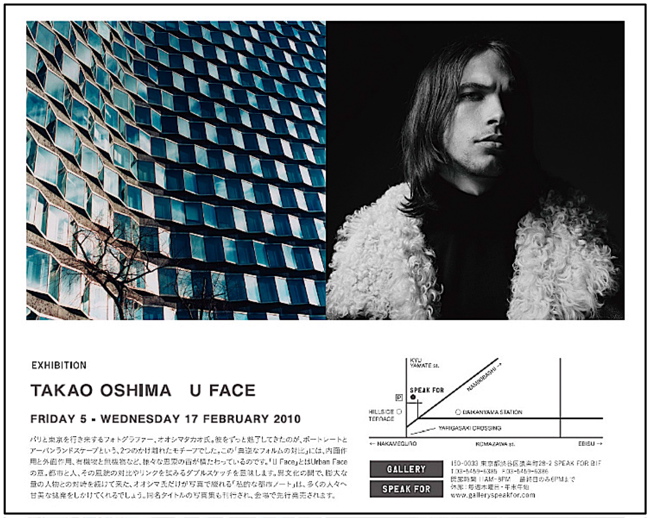 Photographer Oshima Takao left his native Japan for Paris in 1995. Since then he has bridged the two cities, working between the two whilst contributing to publications including Another Man, Harper's Bazaar Japan, Commons&Sense, Nyon and Vogue Nippon.
This exhibition, 'U Face' will cover Oshima's two main areas of interest, portraiture and landscapes.
'U FACE'
Gallery Speak For (Website here)
February 5th – 17th
11.00 – 20.00 (Closed on Thursdays)