待ってました_モンスター級大型個展!宗教と芸術、人間の死や限界をテーマに巨大絵画のお披露目。絵画はもちろん、個人的には「宇宙の産声」や「欲望の炎—金」と彫刻作品が楽しみすぎる。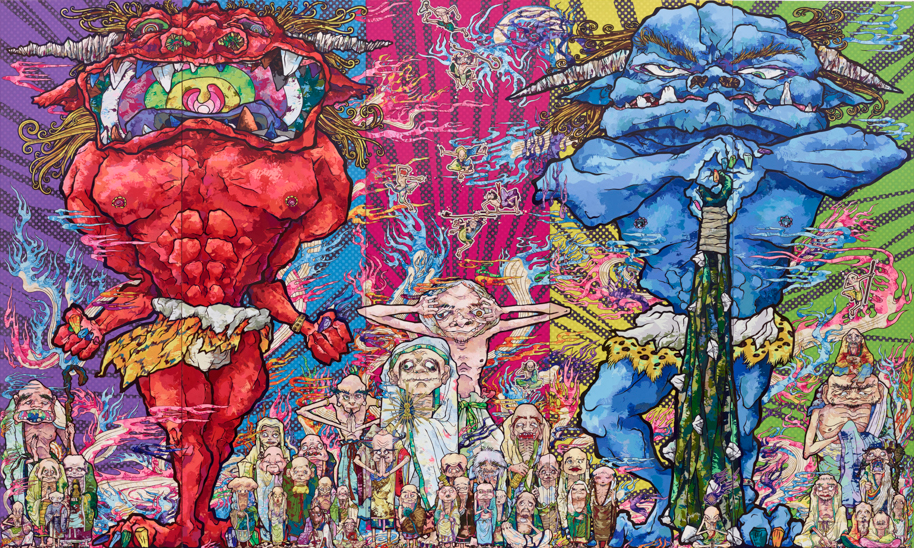 ©2013 Takashi Murakami/Kaikai Kiki Co., Ltd. All Rights Reserved.
日本では2001年以来、14年ぶりとなる村上隆の大規模個展「村上隆の五百羅漢図展」が、10月31日より六本木森美術館にて開催される。
村上隆は、現在も高い国際的評価を得ている現代美術家の1人。ロサンゼルス現代美術館を皮切りに世界巡回した回覧展をはじめ、世界の著名美術館はもとよりヴェルサイユ宮殿やロックフェラーセンター前広場などさまざまな場所で大型インスタレーション展示の以来を受け、作品の圧倒的なスケール感と完成度の高さにより世界中の人々を驚嘆させた。
本展では、主に近年の活動を紹介するもので、東日本大震災を機に仕上げられた高さ3メートル、全長100メートルもの超絵画大作<五百羅漢図>(2012年)を中心に、大型の彫刻作品や抽象絵画作品などを展示予定。また、日本初公開となる<五百羅漢図>は、有限の生と自然と宇宙の無限が交錯するダイナミックなヴィジョン、そこに込められた宗派を超えた祈りの力が注目され、作家の新たな関心と方向性を感じさせる展覧会になっている。
★村上隆の五百羅漢図展
会期:2015年10月31日〜2016年3月6日
会場:森美術館
住所:東京都港区六本木6-10-1 六本木ヒルズ森タワー53階

©2012 Takashi Murakami/Kaikai Kiki Co., Ltd. All Rights Reserved.
The Mori Art Gallery gives dues to the globally celebrated Artist Takashi Murakami with his first major solo Japanese exhibition in 14 YEARS. Although largely unrecognized by many in Japan, Murakami is one of the leading Ambassadors of 'Soft Power', that is, the global dissemination of Japanese pop-culutral aesthetics. This exhibition is long over due and there's no better place than the Mori Museum which reopened after going renovations earlier this year.
Through his artistic endeavors, Murakami has linked 'otaku culture,' character iconography, and Japanese art history against the backdrop of the thematic landscape of post-war Japan, developing the concept of 'Superflat,' which has now left its definite mark in the contemporary art world. He explored this concept with his "Superflat Trilogy," a series of three curated exhibitions held at multiple locations around the world.
In this long-awaited solo exhibition in Japan, Murakami's 100-meter-long painting, The 500 Arhats , surely one of the largest paintings ever produced in global art history, will be shown in Japan for the first time. The work was created as a token of gratitude to the nation of Qatar, one of the first to offer assistance in the wake of the 2011 Great East Japan Earthquake and Tsunami, and was unveiled in Doha, in 2012, the following year. The exhibition will comprise The 500 Arhats and a number of new works in which he continues to offer up new challenges to the history of contemporary art.
Murakami Takashi 'The 50 Arhats'
Mori Art Museum
Saturday, October 31, 2015 – Sunday, March 6, 2016