書画骨董から現代アートまで多様なコレクションを蒐集してきた「村上隆のスーパーフラット・コレクション」が、来年1月30日より横浜美術館にて開催される。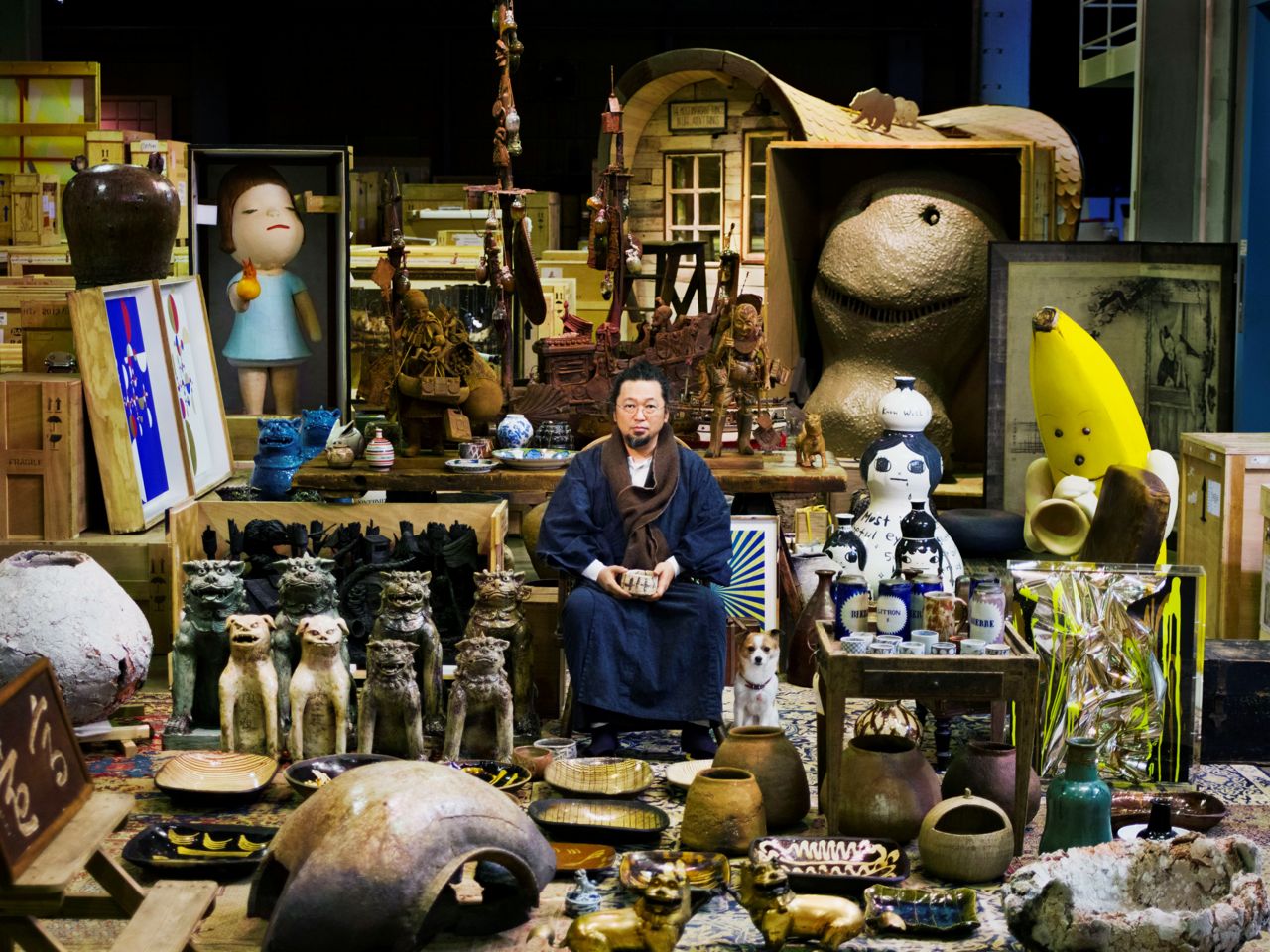 村上隆とスーパーフラット・コレクション 撮影:平尾健太郎
現代美術と日本の伝統絵画、ハイカルチャーとポップカルチャー、東洋と西洋を交差させた極めて完成度の高い作品で世界的に評価され、海外の著名な美術館で数々の個展を開催してきた村上隆。アーティストとして精力的な創作の一方で、村上隆は批評家、キュレーター、ギャラリスト、プロデューサーなど多岐にわたる活動を展開している。特に、近年、独自の眼と美意識で国内外の様々な美術品を積極的に蒐集し続けており、その知られざるコレクションは、現代美術を中心に日本をはじめとするアジアの骨董やヨーロッパのアンティーク、現代陶芸、家具や民俗資料にまで及んでいる。圧倒的な物量と多様さを誇るこれらの作品群を通して、村上隆の美意識の源泉、さらに芸術と欲望、現代社会における価値成立のメカニズムについて考えるとともに、既存の美術の文脈に問いを投げ掛ける、またとない機会となるだろう。
村上隆のスーパーフラット・コレクション
会期:2016年1月30日〜4月3日
会場:横浜美術館
時間:10:00 – 18:00
休館日:木曜(2016年2月11日(木・祝)は開館)
観覧料:一般1,500(1,300/1,400)円、大学・高校生900(800/800)円、中学生400(300/300)円、小学生以下無料、65歳上1,400円、
*()内は前売/有料20名以上の団体料金
Yokohama Art Museum kicks off 2016 with a unique concept, an exhibition of an Artists own Art Collection, that Artist being Takashi Murakami.
This exhibition of Murakami's collection, with its overwhelming quantity and diversity, will provide an insight into the sources of the artist's aesthetic ideas, the nature of art and desire, and the mechanisms that create value in contemporary society, while also encouraging viewers to question art's conventional context. Artists to be featured include Anselm Keifer, Yoshitomo Nara, Horst Janssen and Friedrich Kunath.
While energetically pursuing his creativity as an artist, Murakami has also been active as a curator, gallerist, and producer. In recent years, in particular, he has become an avid collector, acquiring a wide variety of artworks in and out of Japan with a perceptive eye and unique aesthetic sensibility. This little known collection, while loosely focused on contemporary art, includes old Japanese and Asian artifacts, European antiques, contemporary pottery, and folk art and crafts. Murakami's guiding concept of Superflat not only refers to formal aspects he identifies with Japanese art, such as flatness of the picture plane and decorativeness, but also extends to a view of art that rejects hierarchical divisions between different artistic genres or eras and frees artistic activities from definitional boundaries. It is a dynamic, expansive concept that applies to the entirety of the artist's life and activity as he wrestles with the big question, "What is art?" from various angles.
Takashi Murakami's Superflat Collection at Yokohama Art MuseumJanuary 30th (Sat) – April 3rd (Sun), 2016