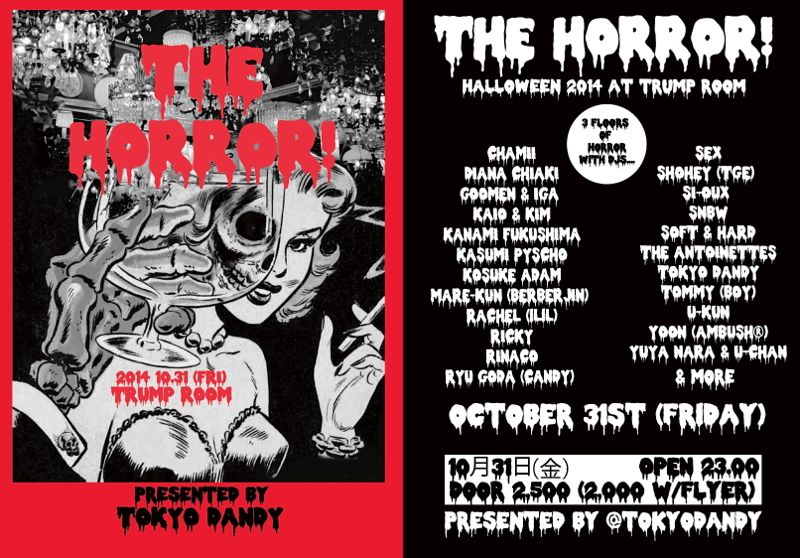 今年もこの季節がやってきました!
2014年10月31日(金)…
渋谷TRUMP ROOMにてハロウィンパーティー開催!
「THE HORROR」と題した会場では、ハロウィンならではの特別な空間を演出!
当日 … 全身仮装での来場お待ちしております!(ヘッヘッヘッ)
*出演者…追加+変更あり!
★THE HORROR!★
TOKYO DANDY presents Halloween 2014 Party at TRUMP ROOM! 3 Floors of DJ's to party under the chandeliers of Tokyo's most decadent night club.
CHAMII
DIANA CHIAKI
GOOMEN & IGA
KAIO & KIM
KANAMI FUKUSHIMA (CANDY)
KASUMI PYSCHO
KOSUKE ADAM
MARE-KUN (BERBERJIN)
RACHEL (iLiL)
RICKY
RYU GODA (CANDY)
SEX
SHOHEY (TGE)
SI-OUX
SNBW
SOFT & HARD
THE ANTOINETTES
TOKYO DANDY
TOMMY (BOY)
U-KUN
YOON (AMBUSH®)
YUYA NARA & U-CHAN
★TOKYODANDY PRESENTS 'THE HORROR' AT TRUMP ROOM★
日程 / DATE:2014年10月31日(金)- 31TH OCTOBER (FRI)
会場 / PLACE:TRUMP ROOM (〒150-0041 Tokyo, Shibuya, Jinnan, 1 Chome−12−14)
時間 / OPEN:23:00 ~
料金 / DOOR:2,500YEN | W/F:2,000YEN
NO COSTUME NO ENTRANCE!