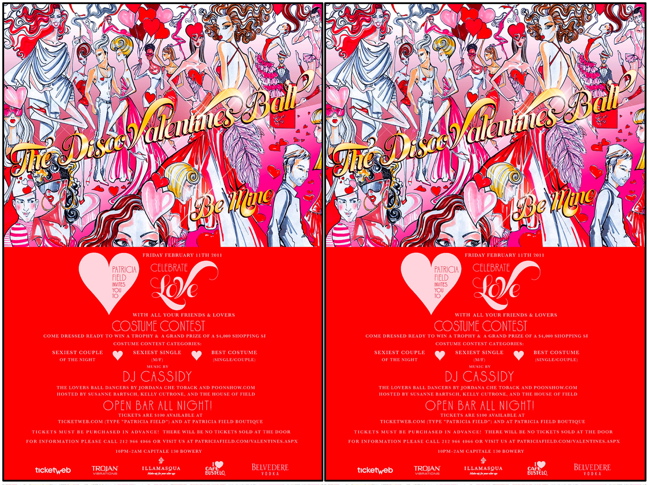 東京でのバレンタインの過ごし方と言えば、やはり、FAILNE TOKYOの「VALENTIN'S DAY ANNIVERSARY PARTY」に違いない。海を渡ってアメリカ・ニューヨークでは、SEX AND THE CITYでお馴染みパトリシア・フィールド(Patricia Field)による「The Patricia Field Valentine's Ball」が開催される。ニューヨークにいる方は是非参加してみるべし。ニューヨーク中のファッションニスタに、"HOUSE OF FIELD" によるエクスクルーシブな企画が盛り沢山。まず、ヴァレンタイン・デイにちなんで最もセクシーと思われるアウトフィットコンテスト!!
♥ SEXIEST COUPLES
♥ SEXIEST SINGLE (MALE / FEMALE)
♥ BEST COSTUME
はい。上記3つのカテゴリーを元にファッションコンテストが行われるのだ。カップル / シングル / コスチュームというカテゴリー内でいかに目立つかということでしょう。パトからのギフトをゲットするには、やはり目立ってなんぼなはず。特にNYの街では目立ったもん勝ちな気が。ということで、自分なりのフルスタイリングで会場に行くべし。
勝ち残った方にはパトリシア・フィールドより4000ドルのギフト・サティフィケートが送られるほか、朝までノンストップの会場内ではオープンバーが設けられているとのこと。
気になる場所は、レストラン/イベントスペースとして知られ、ファッションショーなどでも使用されるあの大箱 「キャピタール "Capitale"」。エキサイティング!
WHEN:2011.2.11 (FRI)
WHERE:Capitale, New York,
DOOR:Tickets $80 before Jan 22 & $100 after
OPEN:22:00 –
*チケット購入方法 → THE PATRICIA FIELD VALENTINE'S BALL
*もしくは、パトリシア・フィールド ストアにて購入可能
*当日券は一切受付ございません(ですので、早めにお買い求めください。)
NEW YORK legend Patricia Filed is hosting a Valentine's Ball at New York's Land Mark 'Capitale' on 11th February. A costume party with an open bar ensures an epic night, this celebration of Love, New York and Fashion is THE kick-off event for Fashion Week. And Tokyo Dandy will be there! Tickets MUST be bought in advance GET TICKETS HERE.
The Patricia Field Valentine's Ball
Friday, February 11. 2011 @ 10PM
Capitale, New York, NY
Tickets $100
Open Bar All Night
Must be 21 years and Over
No tickets will be sold at the door.
As Capitale is a private venue and not a club,
it is illegal to sell tickets at the door.
All tickets must be purchased in advance.