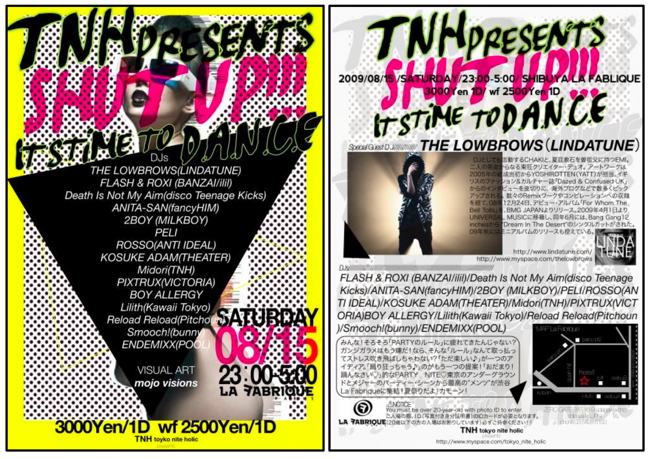 Getting tired of being hedged about with "PARTY RULES"???
If so, Just throw away the fckn "RULES" and How about LETTING THEM OUT???
It's simple,
"JUST FUN♪" is one idea.
"D.A.N.C.E. like CRAZY♪" is another proposal!!!!!
A PARTY NITE♡ it's "SHUT UP!! it's time to D.A.N.C.E."!!!!!!! YO!
BEST people of underground to major party scene GET TOGETHER @ La Fabrique Shibuya !
It's a Summer Nite Festival! Come ooooooooooon!!!!
みんな!そろそろ「PARTYのルール」に疲れてきたんじゃない?
ガンジガラメはもう嫌だ!
なら、そんな「ルール」なんて取っ払ってストレス吹き飛ばしちゃわない?
「ただ楽しい♪」が一つのアイディア。
「踊り狂っちゃう♪」のがもう一つの提案!
「おだまり!踊んなさい♡」的なPARTYNITE♡
東京のアンダーグラウンドとメジャーのパーティー・シーンから最高の"メンツ"が渋谷La Fabriqueに集結!
夏祭りだよ!カモーン!
TNH presents…SHUT UP!! "it's time to D.A.N.C.E."
★☆DJs★☆
THE LOWBROWS(LINDATUNE)
FLASH & ROXI (BANZAI/ilil)
Death Is Not My Aim(disco Teenage Kicks)
ANITA-SAN(fancyHIM)
2BOY (MILKBOY)
PELI
ROSSO(ANTI IDEAL)
KOSUKE ADAM(THEATER)
Midori(TNH)
PIXTRUX(VICTORIA)
BOY ALLERGY
Lilith(Kawaii Tokyo)
Reload Reload(Pitchoun)
smoooch!(bunny)
ENDEMIXX(POOL)
2009.8/15(Sat)
23:30-5:00
@ La Fabrique Shibuya
www.lafabrique.jp
3000円/1D w/f 2500円/1D