トウキョウダンディー スタートから一周年を記念して、5月4日(月)渋谷のTRUMP ROOMにてパーティーを開催致します。充実したこの一年、沢山のハートある人々と出会うことができ、とても感謝の気持ちでいっぱいです。DJ陣には個性溢れる音楽界からモデル、美容師と各業界から豪華アーティストが集結します。当日は、スナップ撮影もあるので"MY STYLE"で登場し会場を盛り上げちゃってください。
TOKYO DANDY 1st ANNIVERSARY @ TRUMP ROOM
2009/5/4(Mon) pm23:00 start
DOOR 3000 YEN
WITH FLYER 2000 YEN
–THE LINE-UP–
VERBAL(m-flo/TERIYAKI BOYZ)
国際的に有名なm-floのプロデューサー・MC、また、TERIYAKI BOYZのメンバーでもあり、ストリート ファッション ブランド"AMBUSH"のデザイナーの顔も持つVERBAL氏。また、カニエ・ウエスト(Kanye West)、ファレル・ウィリアムズ(Pharrell Williams)、バスタ・ライムズ(Busta Rhymes)、クリスタル・ケー(Crystal Kay)、ボア(BOA)、そして、マドモアゼル・ユリア(Mademoiselle Yulia)といった豪華な顔ぶれとコラボレーション活動もしてきている。
MADEMOISELLE YULIA (DJ/GIZA)
DJ、MC、デザイナーといった多才な顔を持ちひっぱりだこなマドモアゼル・ユリア。
昨年初のミックスアルバム"NEON SPREAD"をリリースし、フレンチエレクトロレーベルED・BANGERのニュートラックKatana Powa(feat.Big-O & Mile Yulia)にも参加している。東京の中でもっともクリエイティブで多忙な彼女が、ミックスアルバムに続きジュエリーライン"GIZA"を立ち上げ、海外のウェブマガジンHYPEBEAST、そしてWAH Magazineで取り上げられ、また、東京のストリートスナップとして活動するDROP SNAPにも掲載されている。
ELLI-ROSE(Model/DJ)
モデル、DJとして幅広く活動するエリ・ローズ。
彼女には"白ワインをシャンパンに変えてしまうような"魅力がある。わかるかな?
また、今年の夏IBIZAで開催されるイベントにもオファーがあり、出演を予定しているとか。
YUYA NARA(SHIMA) & SACHIKO(SHIMA)
SHIMA原宿店でディレクターを務める奈良裕也、また、原宿スタイル アイコンとしても有名な彼が、代官山店から移動してきたプリティーSACHIKOとDJデビュー。"SHIMA × FASHION = PARTY"
SHERBERT BOYZ(2-BOY & Yoshirotten(YATT))
今もっとも旬な2-BOY & YOSHIROTTENはソロでも活動しているが、2人が手を組むことで爆発的なサウンドが飛び回る。また、2-BOYはミルク・ボーイでの顔もあり、Yoshirottenはグラフィックデアーテイストとしての活動もしていて、とても才能ある2人だ。
SEX
クールでダークなミステリアス サウンドを、数ヶ月前に立ち上げたファッションブランド、"DRESSEDUNDRESSED"とリンクする彼ら。そんな彼らがTOKYODANDYのためにミステリアスなサウンドを流してくれる。
FLASH & ROXI(ilil)
この2人程会場を盛り上げパワフルな人はいない。WE LOVE THEM !!!
PELI
FEMME-FATALE=「魔性の女」また「セクシーな女」
FANCY BOYS (fancy him)
FANCY HIMは、もっとも大好きなイベントであり、彼たちが参加することでより、ファンシーな一夜になるのは間違いない。
VIVIENNE SATO
アートというものをパーティーに持ち運ぶ貴重な存在の、VIVIENNE様。
PIXTRUX (VICTORIA DISCO)
VICTORIA DISCOのオーガナイザーでありTRUMP ROOMでの先駆者として知られ彼。
GUI
フォトグラファーとして活動するギーだが、最近ではもっとも旬なモデルの一人だ。IT BOY
KOSUKE ADAM
若干20歳にしてLA & TKYOを飛び回るパーティーボーイ。
WALTER(JOHN LAWRENCE SULLIVAN)
もっとも東京で注目されるブランドの一つ、ジョン・ローレンス・サリバンとコラボレーションTシャツを作ったブラジリアン クール ボーイ ウォルター。
TOKYO DANDY
トウキョウダンディーは、DAN & JOE によるプロジェクトで、これまでに出会ってきた沢山のハートある人々とお祝いがしたくこんな企画を考えちゃいました。
是非是非、5月4日(月)渋谷のTRUMP ROOMでお祝い&お会いしましょう!!!
–Sponsors–
SMIRNOFF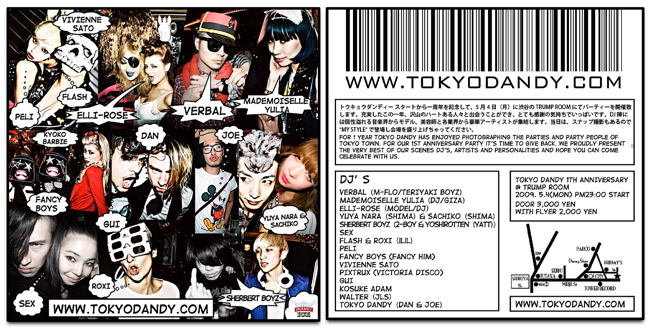 For 1 year tokyo dandy has enjoyed photographing the parties and party people of tokyo town. For our 1st anniversary party it's time to give back. We proudly present the very best of our scenes dj's, artists and personalities and hope you can come celebrate with us.
THE LINE-UP
VERBAL (m-flo/Teriyaki BOYZ) is the internationally renowned producer and MC from m-flo and the Teriyaki Boyz as well as the designer behind the striking street-brand AMBUSH. He has collaborated with the likes of Kanye West, Pharrell Williams, Busta Rhymes, Crystal Kay, BOA and Mademoiselle Yulia. We are truly honored to have VERBAL join us for the evening.
MADEMOISELLE YULIA(DJ/GIZA)
DJ, MC and designer Mademoiselle Yulia released her first album NEON SPREAD last year and appears on the new track KATAKANA power for ED BANGER records. One of the busiest creatives in Tokyo Town, Yulia launched her debut jewelry line GIZA earlier this year to acclaim from web magazines such as HYPEBEAST and WAH Magazine as well as the hugely popular Japanese street-snap site DROP SNAP.
ELLI-ROSE is the model with so much sparkle she turns white wine into champagne. Her continued success as a DJ will see her playing sets in Ibiza this Summer, until then we are lucky to have her celebrate with us.
YUYA NARA (SHIMA) &
Sachiko (SHIMA)
Yuya Nara, Creative Director of SHIMA and undisputed 'Harajuku Style Icon' makes his debut in the DJ booth alongside top stylist Sachiko.
SHERBERT BOYZ (2boy & Yoshirotten(YATT))
2BOY is awesome enough when he DJs solo but when he is joined by DJ and Graphic Artist YOSHIROTTEN from YATT the results are explosive.
SEX took their cool dark vision from the decks to their debut dressed/undressed collection and they bring it back for us tonight.
FLASH & ROXI (ilil) Nobody makes them dance like these two and we love them for it.
PELI DJ FEMME-FATALE
FANCY BOYS (fancy him)
FANCY HIM has long been one of our favorite parties and these boys will make the evening all the more fancy.
VIVIENNE SATO puts the ART into pARTy.
PIXTRUX (VICTORIA DISCO) The man behind VICTORIA DISCO, the Trump Room party pioneer, spins for us.
GUI The photographer and model who is so hot right now.
KOSUKE ADAM (theater)
WALTER (JLS) This year has collaborated on T-shirts with John Lawerence Sullivan, the hottest mens designer in Tokyo right now, he will warm us up for the evening.
TOKYO DANDY Dan and Joe are the two people behind tokyodandy.com. We thank you for your support over the past year and hope to see you Monday May 4th in Trump Room.