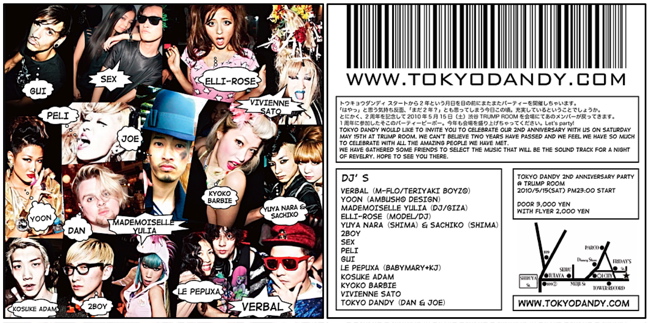 トウキョウダンディ スタートから2年という月日を目の前にまたまたパーティーを開催しちゃいます。「はやっ」と思う気持ち反面、「まだ2年?」とも思ってしまう今日この頃。充実しているということでしょうか。とにかく、2周年を記念して2010年5月15日(土)渋谷TRUMP ROOMを会場にてあのメンバーが戻ってきます。1周年に参加したそこのパーティーピーポー。今年も会場を盛り上げちゃってください。Let's party!
また、秋冬コレクションを発表(5月11日 -5月13日 )したばかりのDRESSEDUNDRESSEDが、デビューから1周年を迎え、6階フロアにて彼ら自身がディレクションしたフォトたちがエキシビションとなって登場。TOKYODANDY2周年とDRESSEDUNDRESSED1周年といったダブル祝福とでも言おう。6階フロアも要チェック。
Tokyo Dandy would like to invite you to celebrate our 2nd Anniversary with us on Saturday May 15th at Trump Room. We can't believe two years have passed and we feel we have so much to celebrate with all the amazing people we have met. We have gathered some friends to select the music that will be the sound track for a night of revelry. Hope to see you there.
TOKYO DANDY 2nd ANNIVERSARY PARTY at TRUMP ROOM
WHEN:2010.5.15 (SAT)
TIME:23:00 OPEN
PLACE:TRUMP ROOM
DOOR:3000 YEN
WITH FLYER:2000 YEN
▼▲ DJ's ▼▲
VERBAL(m-flo/TERIYAKI BOYZ®)
YOON(AMBUSH® DESIGN)
MADEMOISELLE YULIA (DJ/GIZA)
ELLI-ROSE(Model/DJ)
YUYA NARA(SHIMA) & SACHIKO(SHIMA)
2BOY
SEX
PELI
GUI
LE PEPUXA(BABYMARY+KJ)
KOSUKE ADAM
VIVIENNE SATO
KATEB
WALTER

▼▲▼▲▼▲
KYOKO BARBIE
SONOYA
ANNA ROCHE
and more something coming soon …