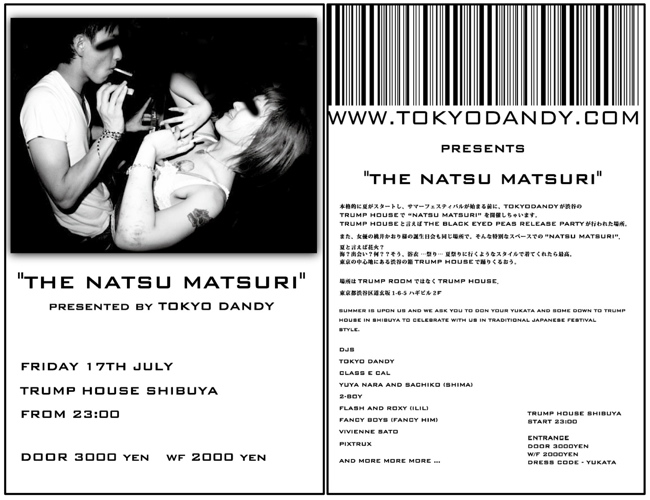 △▼△▼△▼△▼△▼△▼△▼△▼△▼△▼△▼△▼△▼△▼△▼△▼△▼△▼△▼△▼△▼△▼△▼△▼△▼△▼△
本格的に夏がスタートし、サマーフェスティバルが始まる前に、TOKYODANDYが渋谷のTRUMP HOUSEで "NATSU MATSURI" を開催しちゃいます。TRUMP HOUSEと言えばTHE BLACK EYED PEAS RELEASE PARTYが行われた場所。また、女優の桃井かおり様の誕生日会も同じ場所で。そんな特別なスペースでの"NATSU MATSURI"。夏と言えば花火?海?出会い?セックス?何??そう、浴衣 …祭り… 夏祭りに行くようなスタイルで着てくれたら最高。東京の中心地にある渋谷の箱TRUMP HOUSEで踊りくるおう。
To kick off Summer '09, TOKYODANDY is holding a "NATSU MATSURI" at TRUMP HOUSE in Shibuya, the venue for countless celebrity birthdays as well as the recent Black eyed Peas album release party.
What do you think of when we say Summer? Fireworks? The Sea? The Beach? A Summer romance? We think festivals. Rock Festivals and traditional Japanese festivals (so YUKATAs are the recommended dress code).
もう一度、場所はTRUMP ROOM ではなくTRUMP HOUSEリメンバー。
東京都渋谷区道玄坂1-6-5 ハギビル2F
Don't confuse Trump House with Trump Room! Trump House is the one closer to the station on the ghetto side of Shibuya. We thought we would change it up a little for some more intimate fun x
1-6-5, Dogenzaka, Shibuya-ku, Tokyo Bush clover building 2F
"THE NATSU MATSURI" Presented by TOKYO DANDY at TRUMP HOUSE
09/7/17 (Fri) pm23:00 start
Dress Code – 浴衣(Yukata)recommended.
Door 3,000 yen
With Flyer 2,000 yen
△▼ THE LINE UP △▼
ELLI-ROSE (Model/DJ)
YUYA (SHIMA) & SACHIKO (SHIMA)
FANCY BOYZ (Fancy HIM)
ROXY (ilil) & FLASH
PEACHES & CAKE
CLASS E CAL
SEX
1987 (Takeru & Julie)
PIXTRUX
TOKYO DANDY
VIVIENNE SATO
and more …
△▼△▼△▼△▼△▼△▼△▼△▼△▼△▼△▼△▼△▼△▼△▼△▼△▼△▼△▼△▼△▼△▼△▼△▼△▼△▼△