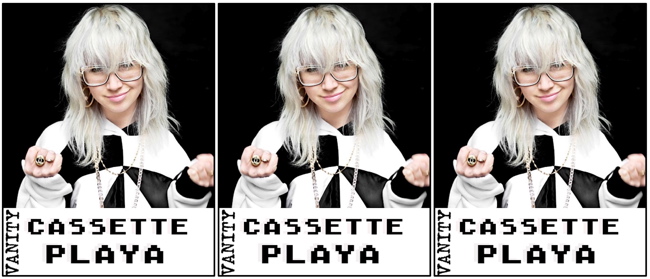 VANITY presents…
CASSETTE PLAYA in TOKYO!
supported by NIKE, PHENOMENON and Faline
We will be there doing photos x
One of the most exciting and innovative designers to come out London, Carri Munden a.k.a. CASSETTE PLAYA comes to Tokyo to celebrate recent collabs with NIKE AND PHENOMENON and a very special dj set & interview session curated by Babymary from FALINE.
ロンドンの新進気鋭のストリートブランド CASSETTE PLAYA (CARRI MUNDEN)。奇抜なデザインとCOOLなモチーフで注目され、M.I.A.やKLAXONSなどのミュージシャンのコスチュームデザイナーとしても有名。過去にNIKE BLAZERとのコラボスニーカーも話題になった常に話題の尽きない、デザイナーCASSETTE PLAYAが来日!スペシャル・インタビュー・ショー&トーキョーのCOOLなDJ達との共演が実現!
ー Guest DJ ー
CASSETTE PLAYA (Carri Munden)
ー DJs ー
KIRI (Revolver)
PUNKADELIX (MAYU)
NARA YUYA & SACHIKO (SHIMA)
TOMOYA MIZUNO
NARC & CASH (VANITY)
DIRTY RICH GIRLS
and SPECIAL SECRET GUEST !!!!
Introducing : Belvedere Vodka "IX"
3000yen1D w/f 2500yen1D
事前申し込みにより2500円1Dにディスカウント
click VANITY.