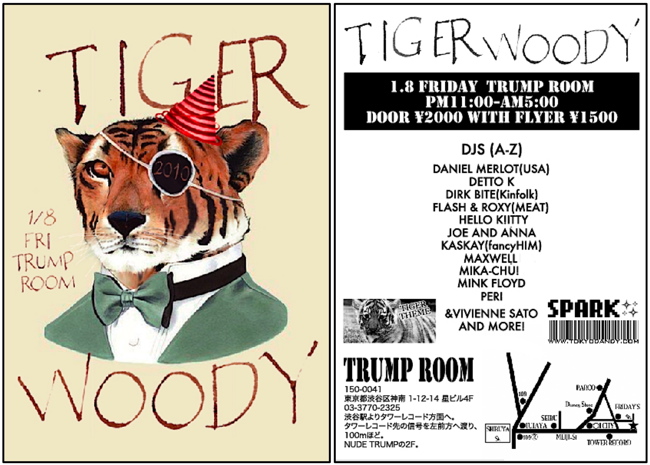 新しい元号がスタートした年1月8日(金)に今年初のBIGなパーティーを開催。2010年=寅年。寅にちなんで、寅にまつわる情報。あまり知られてないが、1月8日はとても特別な日なのです。まず、新しい元号がスタートした日。元号って?昭和天皇の崩御を受けて、7日午後の臨時閣議で次の元号を「平成」と決定したのだ。
あまりダラダラと書いても堅苦しくなってしまうので、これくらいにしときます。とにかく、2010年1月8日(金)は今年初のTIGERパーティー。see you there !!!
ー TIGER WOODY ー
日程:2010年1月8日(金)
時間:23:00 – 5:00
DOOR:¥2000
*Facebook RSVP: ¥ 1500
2010 is here, this is a NEW DECADE!
It's time to SHAKE IT UP! The year of the tiger. In line with tigers stripes, we mixing up our party colors, to celebrate the new year, and new decade.
With some of our favorite Tokyo party djs in 2009, along with some prime candidates for Twenny 10. A TIGER THEME, and more, more, more to come.
Fun tiger theme (but) no dress code required for entry.
(A-Z)ー DJ's ー
DANIEL MERLOT (USA)
DETTO K
DIRK BITE(Kinfolk)
FLASH & ROXY (MEAT)
HELLO K!ITTY
JOE AND ANNA
KASKAY (fancyHIM)
MAXWELL
MIKA-CHU!
MINK FLOYD
PERI
& VIVIENNE SATO
Special Guest DJ …
MOTHER PERERA (Jahcoozi)
and more more more …