ヴォーグ・オム・ジャパン(VOGUE HOMMES JAPAN)第2号3月10日発売 "The Americans"。
アメリカのシンボルを象徴としたイーグル(鷲)が。撮影には前回同様エディ・スリマン(Hedi Slimane)が担当。
エディは、ここ数年アメリカンビンテージファッションにとても関心をもってるとか。エディの服装を見れば分かるだろう。そして、オバマ氏、アメリカだけでなくいろんな国で話題となってるオバマ氏。彼の活躍に世界中の人々が期待する。これからアメリカはどう変化していくのか、アメリカだけでなく、なんらかの形で日本にも影響がでるのは間違いない。
そして、私たちが楽しみにしているのは、Shun Watanabeによるスタイリングで、モデルには今最も勢いのある俳優が。待つ事のできないTD TEAM !
3月10日発売VHJの表紙は今月末にはTDで取り上げるだろう。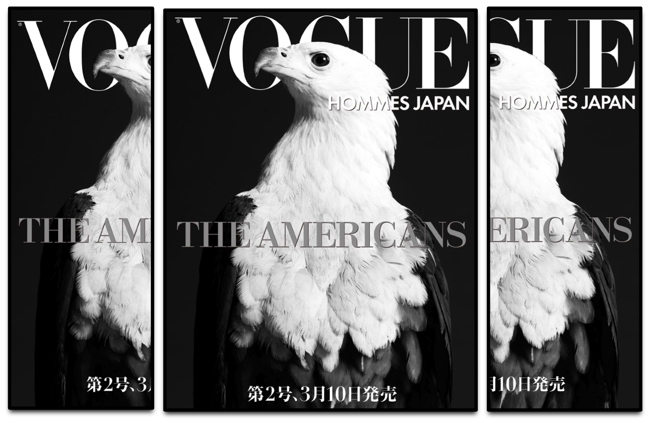 This is the Preview cover for the second issue of Vogue Hommes Japan, "The Americans", featuring the symbol of America, the eagle, photographed by Hedi Slimane. Hedi has been interested in vintage American fashion in the past year or so, and in these hyped up Obama times it's going to be interesting to see the creative team at VHJ's take on "The Americans". We have heard good things about this issue, including one of our favorite actors being styled by Shun Watanabe for an editorial we can't wait to see. The real cover should be along soon, the second issue will be released on March 10th.