「Live in TOKYO」と題された「WARP MAGAZINE」のエディトリアルに東京のギャング集団が集結。メンバーにはDJやデザインと多才な顔を持つものばかり。撮影場所はご存知かと思うか、日頃からお世話になっている「TRUMP ROOM」。同ビル2階には「NUDE TRUMP」という古着屋があるので是非足を運んでみるべし。また、本誌別ページでは今最も人気のガールズ(Elli-Rose, Mademoiselle Yulia and Punkadelix)が紹介するおすすめニュースポットが載っている。2010年08.09月号 定価690円(本体658円)。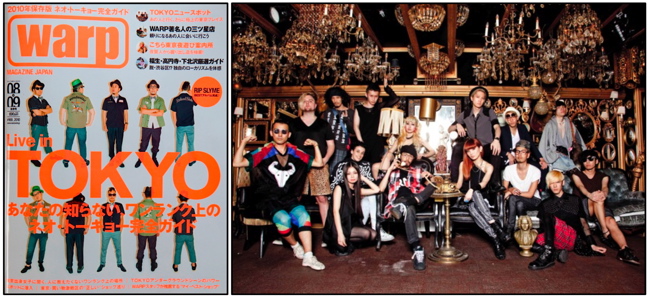 Featuring Rip Slyme on the cover, the new issue of WARP Magazine Japan features a range of established and rising stars from the Tokyo scene. Models, DJs, designers such as Elli-Rose, Mademoiselle Yulia and Punkadelix show you their favorite stores and bars, this issue is an insiders guide to Tokyo. TOKYO DANDY is featured alongside many of our friends in a shoot that took place in TRUMP ROOM (above photo).
WARP magazine has done a really good job of profiling Tokyo in this issue. It's great to see a Japanese magazine with interesting lifestyle/subsulture content rather than the catalogue-like layout that most of the magazines follow month after month. WARP is on sale today priced at 690 YEN.