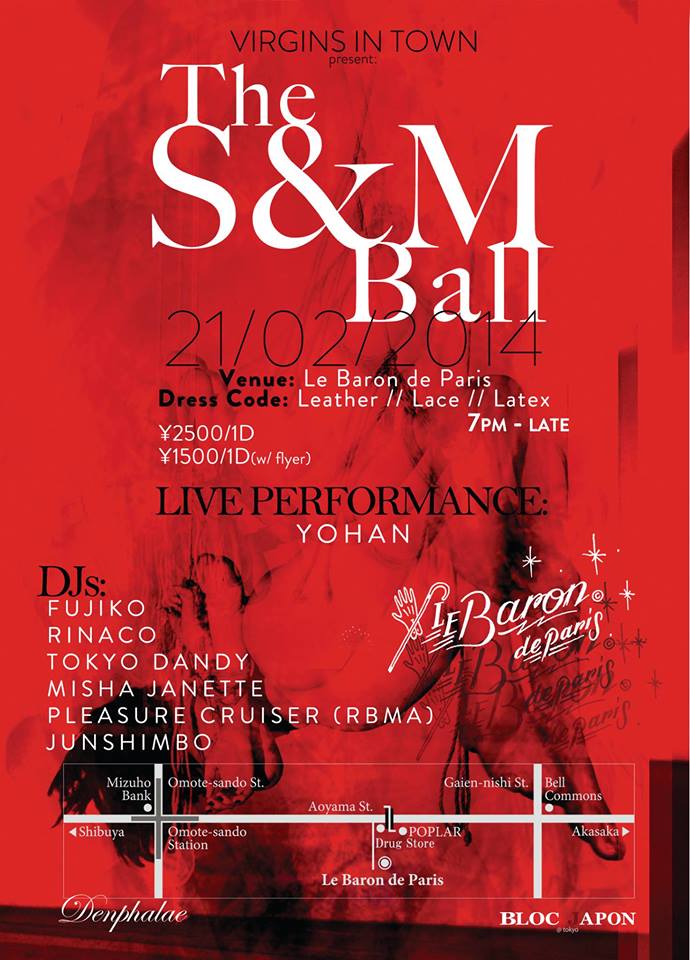 バージンズの皆さん、
お世話になっております。
皆様を是非、今回のセンシュアルでエロティックな、「恥ずかしい」が無い大人向けのボールに招待したいと思います!
今回のバージンズインタウンでは、ルバロンをベルリンに有るS&Mクラブ風に進化させます。
又、東京で一番のパーフォーマやDJさんに、最高な夜を頼んいますので、皆様夫々の一番のフェティッシュに決め、遊びに来て下さい。
よろしくお願いします。
バージンズインタウン
We would like to invite you for a very sensual and erotic Ball.
A night for Adults Only, where being shy is not allowed!
This time we will transform Le Baron into a Berlin like S&M Club.
We are counting on the best Performers and DJs for a great time for you!
Dress up in your most desirable fetish outfits and come enjoy this sexy night.
We are looking forward to seeing you there!
Live Performance:
YOHAN
DJs:
Misha Janette Fleming
Fujiko Takasugi
TOKYO DANDY (Dan Bailey, Kazuaki Jöë K)
Rinaco Ines Aoki
Pleasure Cruiser (RBMA) (Nic Liu)
JUNSHIMBO(Official) (Jun Shimbo)
Musicians:
Drummer, Yu Ouchi
Guitarist, Nikolas Faraguna
Pole Dancer:
Mari
Gogo:
Leigh Carmichael
Dresscode:
Leather, Lace Latex
Photographer:
Yuji Murakami
Nicole Berry
Entrance:
Y2500/ 1D (Door)
Y1500/ 1D (Flyer or LIKE YOHAN)
Flyers at Tokyo Le Baron, Bloc de gemmes, Musk, Trump Room, FALINE TOKYO & FAKE TOKYO.com